Entertainer-turned-restaurateur Yanique 'Curvy Diva' Barrett is shutting down rumors that she is undergoing treatment for diabetes. 
The Lifestyle artist was earlier captured receiving Ozempic, an injectable medication that improves blood sugar in adults with type 2 diabetes, at Janus Cosmetics and Medical Spa in Kingston.
As stated on its website, Ozempic is not a weight loss drug, but may help to trim some inches, accounting for the medication's viral popularity this year among several influencers. It is for that purpose that the 'Curvy Diva' decided to take the jab.
"What the hell, so not true," she responded to the vile reports in her Instagram Story on Thursday. "Mi nuh have diabetes; it's only for weight loss guys."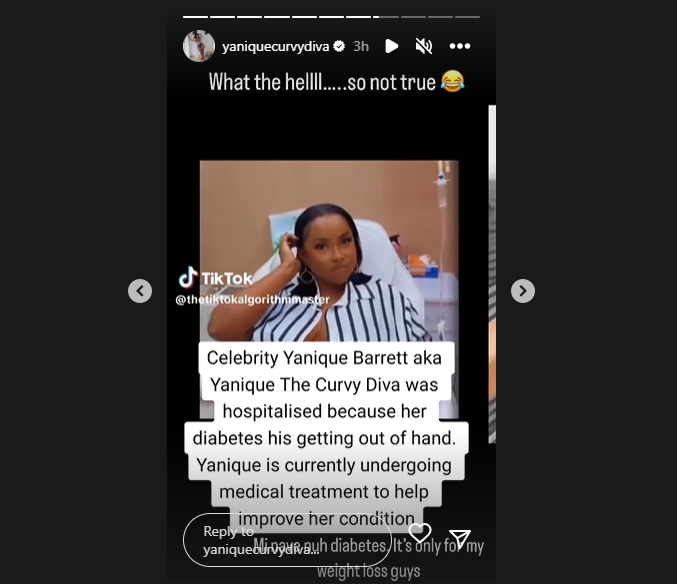 She added that she was even approached by a concerned supporter while grocery shopping. 
"She explained to me that she hear seh me have diabetes and me a get treatment," Barrett said. "No, no, no guys… I'm fine guys, I don't have diabetes. I have friends that have diabetes and I know the struggle and I know the whole risks and everything. It's not something to joke about."
She continued, "Ozempic is a diabetic drug, all of that, so, you guys just have to read up on it. It's good for weight loss. You can lose up to 15 pounds or more within, umm, probably all 30 pounds in a month. It suppress your appetite, it don't mek you hungry… There are a lot of side effects, so, read up on it for unno selves."
She supported that with a follow-up snap of her feeling stuffed after barely touching a salad. 
Losing weight has been on the popular host's agenda for quite some time, and she's shared her on-and-off fitness journey with social media followers over the years. Her last public weight loss mission was ahead of carnival 2023, which saw the Bunx Pon It singjay cleaning up her diet to achieve her road march look. 
This time around, Barrett is using a mixed-methods approach, in her own words, to "make me hotter".
"Yes, I'm doing the Ozempic. Yes, I'm exercising, dieting, all of that, so, let's take on the journey, see what happens, the whole process, but I'm good."
Besides having trypanophobia, "I'm excited about the results, I can't wait. Remember, October is all about selfcare."
Barrett is no stranger to waltzing with controversial beauty trends. In an Instagram livestream last year, she defended her belief in nipping and tucking the undesirables. 
"Me believe inna plastic surgery," she said. "Mi a one a dem weh nuh hide it. Mi a one a dem weh seh, yeah, mi do mi body, and mi talk from early. It's been eight years now, almost nine years. Yeah, it need fi do again, and guess wah? It can do. Mi don't have the time fi it heal and dem something deh cause mi busy."
Barrett operates Dining With Curvy which boasts two locations offering an in-dining experience and another for express orders. 
What's your reaction?
0
cool
0
bad
0
lol
0
sad