The government of Uganda has committed to prioritize accessibility of services for persons with Spina Bifida and Hydrocephalus conditions and review of taxes that are affecting persons with disabilities in general in addition to addressing all other challenges through the new policy underway  dubbed blueprint on disability.
The commitment was made by Hon. Asamo Hellen Grace, the minister of state for disability affairs during the commemoration of the World Spina Bifida and Hydrocephalus day 2023 on Wednesday in Kampala held under the theme: Accessibility for All: Empowering Lives, Embracing Differences.
Spina bifida is a neural tube defect, a congenital disability, whereby the spinal cord and vertebrae do not form completely and the neural tube fails to develop normally. The condition is a neural tube defect (NTD) caused by a fault in the development of the central nervous system in early pregnancy, normally the first 25 day while  Hydrocephalus (PIH), often referred to as 'water on the brain,' caused by an infection in the early neonatal period, has plagued Uganda for decades, affecting thousands of infants annually.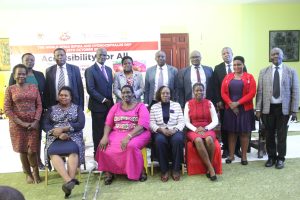 The state minister for disability affairs Asamo Hellen said in a bid to offer more meaningful services to persons with disabilities, government and all stakeholders are working towards completing the blueprint on disability as was requested by president Museveni during the International Day for Persons with Disabilities 2021.
"I want to believe that most of you present here, have given your inputs to enrich the document. I urge all of you who have not yet given your input to please do so. Remember, this is going to be our disability point of reference for service delivery. I would like to urge all of you to embrace working together for improved services, avoidance of duplication, and resource wastage. Working together also supports us to learn from each other for further improvement of service delivery to our clients. I will soon hold a meeting with MDAs technical teams especially under Ministry of Health, Ministry of Education, my Ministry, among others to streamline coordination of NGOs work for improved service delivery to Persons with Disabilities." Said Asamo
Asamo called for collective efforts to ensure that individuals with disabilities have equal opportunities to thrive and contribute to society.
"Empowering the lives of persons with Spina Bifida and Hydrocephalus and other persons with disabilities is at the core of our mission. We must work together to break down barriers and provide individuals with spina bifida and hydrocephalus, the tools they need to lead independent and productive lives. This includes ensuring access to quality healthcare, specialized support services, assistive devices, and inclusive education that caters to their unique needs." Said Asamo
Asamo appealed persons with disabilities and parents to have a positive attitude before the community adopts that same by not hiding their children and not being so over protective of them but rather train their children and allow them discover their potential and talents since they have special blessings and talents with great opportunity.
She appealed to Members of parliament to always be conscious while passing taxes since some affects persons with disabilities giving an example of 18% tax increase on all diapers in the Value added Tax Amendments FY2023-2024, before urging them to reconsider this tax in the coming financial year and also advocate for a budget allocation for assistive devices for persons with disabilities.
The minister and government applauded Spina Bifida and Hydrocephalus Association of Uganda (SHAU).for its style of work in terms of transparency and submission of annual reports and manuals to Government, for guidance and coherence is approaches thus appealing to others to adopt the same.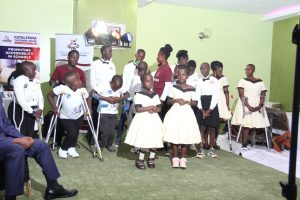 Ruth Nalugya, the Executive Director of Spina Bifida and Hydrocephalus Association of Uganda emphasized the importance of prevention, diagnosis, treatment and thus called for at least rehabilitation healthcare services cascaded down to the community health facilities to improve access and early interventions.
It is estimated that 11.7% of 10,000 live births in the country are affected by Spina bifida which often leads to a lifelong physical and cognitive Disability. Hydrocephalus affects over 8000 persons per year and 40% of cases have post-infectious hydrocephalus, 30% due to Spina bifida, and 30% being congenital hydrocephalus. Each year, CURE Uganda provides life-saving brain surgery for over 1,900 patients (150-160 per month) and treats more than 10,000 outpatients with neurological conditions. Which surgeries are too expensive and can only be performed at Cure hospital and Mulago National referral Hospitals.
Spina Bifida conditions can be prevented by women of childbearing age adding folic acid to their diets which significantly reduce the risk of having a child with a neural tube defect, such as spina bifida by about 70%. Therefore, it is recommended that all women of childbearing age consume 400 micrograms of folic acid daily. They also need to Eat foods rich in folic acid/ folate such as fresh green vegetables (not overcooked), boiled eggs, liver, fruits like oranges, avocado, etc., and foods fortified with folic acid and other minerals also reduces the risk.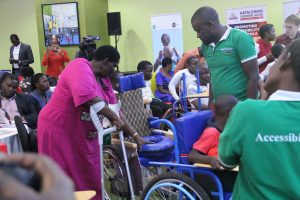 Hydrocephalus can be prevented by giving birth in the hospital not at home or in small village clinics, avoiding the use of old razor blades to divide the umbilical cord as it's a source of infectious germs. In case of a fever and or convulsions in a baby after birth, seeking immediate help from a major hospital where the condition can be appropriately handled. By not putting anything like cow dung on the umbilical stump in an attempt to accelerate healing. And appropriate adequate treatment of all neonatal infections.
What's your reaction?
0
cool
0
bad
0
lol
0
sad