The charismatic and mercurial Reggae legend Peter Tosh is reported to have once threatened to harm Rolling Stones frontman Mick Jagger over wanting to be released from his recording contract.
Jagger, who formed one-fifth of the Rolling Stones quintet, had sparked a connection to Reggae when Rolling Stones Records signed Tosh in 1978 and released his Bush Doctor album. Mick had been featured on the album, collaborating with Tosh on the lead single (You Gotta Walk) Don't Look Back, a cover of The Temptations' original song.  
The Westmorelite was the only Reggae artist signed to Rolling Stones' label from 1978-1981. He also served as the opening act for their 1978 US tour and even appeared in the opening scene of the music video for the Stones' song Waiting On A Friend.
But behind the scenes, trouble was brewing. According to Copeland Forbes, Tosh's longtime manager, the Johnny B Goode singer was disgruntled with the label and wanted out. In Forbes' book, Reggae My Life Is, he recounted that Tosh had decided, in his mind, that Jagger was at fault for the label not releasing him and claimed that he was going to 'deal with the Briton's case' anywhere he saw him.
However, when the confrontation finally happened, Tosh's supposed anger vanished into thin air, and he instead joined Mick for some fun, in a ganja-smoking and guitar-playing spree at Andy Warhol's The Factory Studio.
"The Peter in this story is obviously none other than Peter Tosh that is a true story.  I witnessed it myself in Factory Studio," Forbes had told broadcaster Richie B in an interview to promote the book some weeks ago.
Forbes had explained that Peter, accompanied by his partner Janet Davis, in his absence as manager, had done a television interview in which he "made some threatening remarks", (which he said were unrepeatable) towards Jagger, which sent their publicist Charlie Cuomo into hysterics.
"Then he (Charlie) said Mick was given as a security, that if Peter is seen within 10 feet of Mick to take him out," Forbes explained.
Copeland had revealed that at that point, Peter was recording his Mama Africa album, and after being called by the album's producer to visit the studio one night when Jagger was voicing, he used the opportunity to get Tosh to air his grievances personally to the rock star.  Fearing Jagger would cancel, Forbes did not reveal that Tosh would be present.
Forbes also said that being around Peter for so many years, he knew his temperament and surmised that he was only bluffing when he said he would harm Jagger.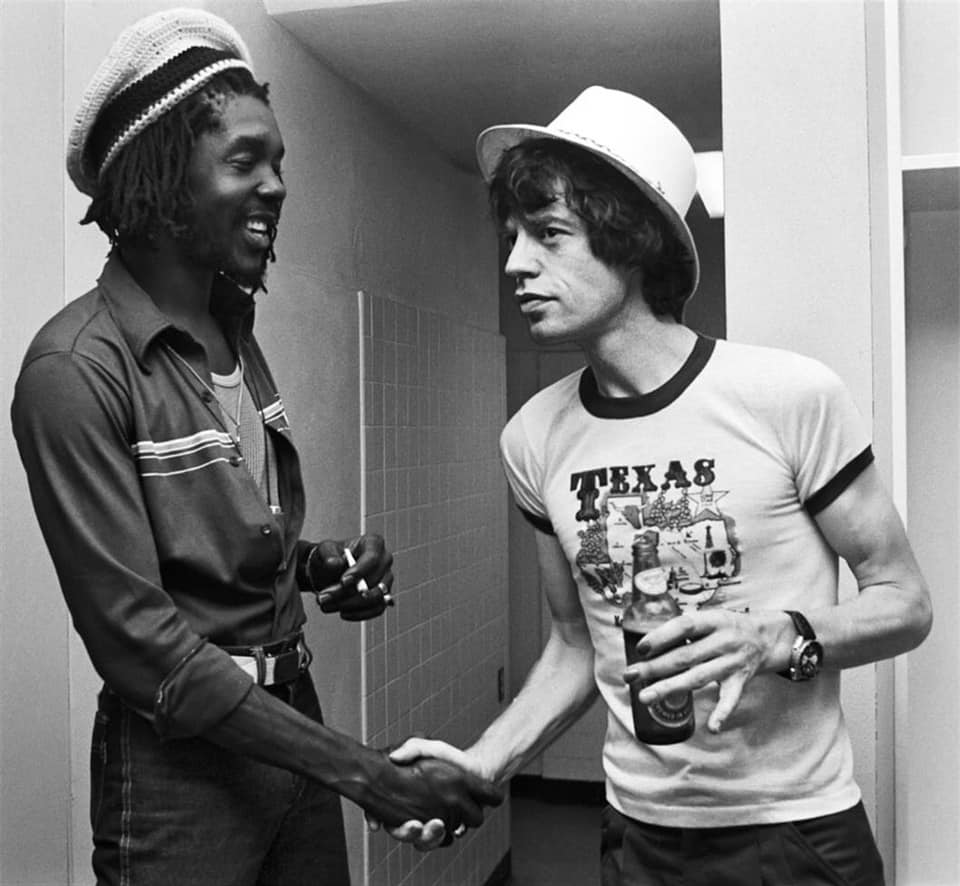 He said when they arrived at the studio that night, all hell did not break loose as everyone feared, as Peter was as calm as a cat.
Meanwhile, in an unexpected twist, Jagger stripped his shirt off, placed his neck at Peter's feet, and told him to go ahead and kill him. But Tosh, as Forbes had predicted, did not harm Jagger. Instead, he made his request clear – he wanted to be released from his contract with Rolling Stones Records.
"So we walked in and Mick looked up and saw the dread… and then we sat down on the sofa facing the glass, looking into the studio and Mick stopped voicing.  So the engineers stop the tape too, and he sat there and he was there and then after about 5-10 minutes," he began.
"Peter had a rod in his hand and stamped it in the ground…  So as Mick came through the door he just went over to Peter and pulled his shirt off and say 'listen Peter I hear you're looking for me to kill me.  If you're going to kill, me kill me now," Forbes recounted.    
"And Peter said 'no man get up off the BC (b-mboclaat) grung.  You a BC big man… Man git up off di grung; me is a musician, you is a musician; me is a businessman, you is a businessman; but is pure BC a gwaan inna yuh company and I want mi release'.  He was signed to Rolling Stones records and he wanted a release," Forbes explained.
Added Forbes: "Mick didn't know anything about that because Mick owns the company but the president is Earl McGrath who runs the company you know so in the end the engineer got up and ran out of the studio and I'm sitting there and I said to myself maybe the best thing to do is leave the two of them together by themselves."
Forbes said after exiting the studio for about 20 minutes, the engineer returned inside, after which music sounds began to emanate from there.
"I'm out there and then I hear some sound like recording going on and when I opened the door I see Peter, Mick with a spliff in his mouth.  Peter had a big one," he said.
"Peter had a guitar… and I see the two man dem hitting it off together,  and when I saw that no fight, I went and called Charlie… and him send over a reporter immediately.  And in the end, Mick called me outside I said me to meet him at Rolling Stones records.  And he gave me six a cheque for US$60,000 made out to Intel Diplo to give Peter as a gift.  And he apologized for Peter being held up when he wants to move on and (said) he would never hold back Peter," he revealed.
Tosh's Bush Doctor album peaked at No. 104 on the Billboard 200, a minor improvement over his prior albums, including Legalize It, which had peaked at No. 199 on the same chart in 1976. Its lead single, (You Got to Walk and) Don't Look Back with Jagger, broke through the Billboard Hot 100, peaking at No. 84.
His subsequent releases on Rolling Stones Records were Mystic Man (1979), which peaked at No. 104 on the Billboard 200, Wanted Dead & Alive (1981), which peaked at No. 91, and Mama Africa (1983), which peaked at No. 59.
After spending four years protesting elements of his record contract, Tosh released his seventh and final album, No Nuclear War, in 1987.
Later that year, he was tragically murdered by gunmen at age 42 at his Kingston home.
Jagger turned 80 yesterday (July 26).
His 80th birthday coincides with the 50th anniversary of The Rolling Stones' month-long stay in Jamaica in 1973, where they recorded their Goat Head Soup album at Byron Lee's Dynamic Sounds Studios in Kingston, during what was his second trip to the island.
The British rock legend, who named Vybz Kartel as one of his "favourite rappers", shared a photo on Instagram of himself clad in a purple suit with the caption: "Thanks so much for all your lovely comments and birthday wishes!! 🙏❤️' to the delight of his fans who commended him on being "forever young".
What's your reaction?
0
cool
0
bad
0
lol
0
sad