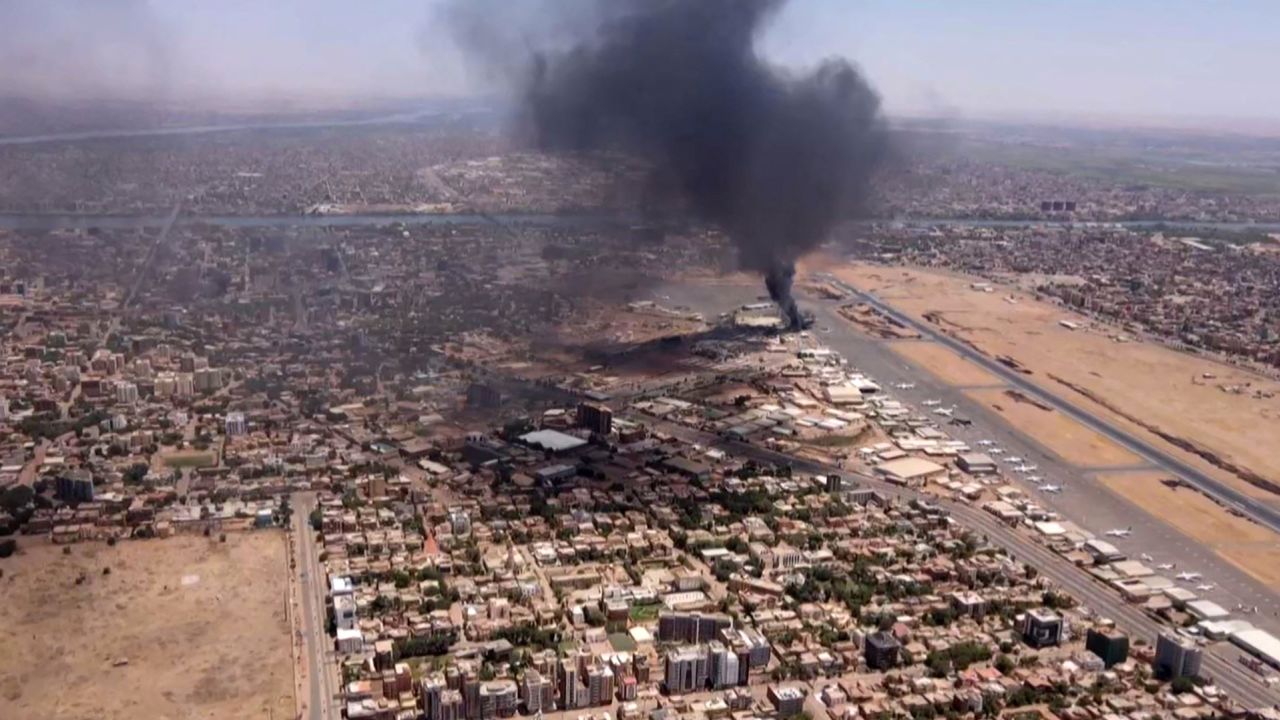 CNN  — 
Both of Sudan's warring factions have declared a 72-hour truce for the Muslim holiday of Eid after nearly a week of fierce fighting, which has left more than 400 people dead and pushed tens of thousands of refugees to flee the country.
The paramilitary Rapid Support Forces (RSF) first announced a ceasefire earlier on Friday yet clashes continued north of the capital. Its rival Sudan Armed Forces (SAF) later announced a three-day suspension of fighting.
Foreign officials and international organizations had been calling for a three-day pause in fighting, which would allow people to find food, evacuate safely, or gather with family for Eid, which marks the end of the Islamic holdy month of Ramadan.
The fighting broke out last Saturday as SAF leader Abdel Fattah al-Burhan, who is Sudan's military ruler, and RSF Commander General Mohamed Hamdan Dagalo vie for control of the country
But it remains unclear if the agreement will hold after several previous ceasefires between the warring generals repeatedly broke down, with both sides trading blame for violating the terms.
The fighting has led to 413 deaths and 3,551 injuries, according to the World Health Organization (WHO), and one US citizen has also been killed amid the violence, the US State Department confirmed to CNN on Friday.
Speaking at a United Nations briefing in Geneva on Friday, UNICEF spokesman James Elder said that so far at least nine children were killed and at least 50 injured, adding that the number of child casualties "will continue to rise as long as fighting continues."
Eyewitnesses that CNN has spoken with said fierce fighting raged in Khartoum North, an area north of the capital, on Friday.
The violence has also hampered the work of humanitarian and aid groups.
The UN's International Organization for Migration (IOM) said that it has been forced to suspend its humanitarian operations in Sudan, after a staff member died when the vehicle he was traveling in with his family on Friday morning was caught in a crossfire between warring parties in the southern Sudanese city of El-Obeid.
The International Committee of the Red Cross (ICRC) says it has been unable to deliver aid to civilians in Sudan because of a lack of security guarantees due to the recent fighting and violence, according to a press release.
The RSF had announced a ceasefire in a statement on Twitter on Friday morning, saying it was due to begin at 6 a.m. local time SAF leader Abdel Fattah al-Burhan released an on-camera statement Friday morning, expressing sadness for victims of the fighting and praying for a peaceful Eid – but he made no mention of a truce.
"The ruin and destruction and the sound of gunfire have not allowed a space for the joy that our people across our beloved country deserve, and we are deeply saddened by this," Burhan said in the statement – his first on-camera remarks since clashes broke out on April 15.
The pleas for a truce have grown more urgent in recent days as the death toll climbs. Most hospitals in the capital Khartoum are out of operation, with many having come under attack by shelling; meanwhile, those still operating are rapidly running out of supplies to treat survivors.
Residents have been stranded at home and in shelters without food or water, surrounded by the threat of gunfire and artillery outside.
The fighting could force millions into hunger, the World Food Program (WFP) warned on Thursday.
"Record numbers of people were already facing hunger in Sudan before the conflict erupted on April 15," it said in a statement, adding that the fighting was preventing the organization from delivering emergency food to civilians.
The death of a US citizen in Sudan was confirmed by a State Department spokesperson on Friday. "We are in touch with the family and offer our deepest condolences to them on their loss," the spokesperson told CNN. "Out of respect for the family during this difficult time, we have nothing further to add," they added.
A ceasefire could provide a crucial window not just for aid distribution and medical care – but for foreign governments to reach their citizens stranded in the country.
There are an estimated 16,000 American citizens in Sudan, most of whom are dual nationals, officials told staffers Wednesday. Roughly 500 had contacted the US Embassy since the outbreak of fighting, though only around 50 of those people had asked for help, according to the staffers.
But the security situation and the closure of the airport in Khartoum has led to the US State Department to advise that American citizens in Sudan "should have no expectation of a US government-coordinated evacuation at this time," State Department deputy spokesperson Vedant Patel at a press briefing.
"It is imperative that US citizens in Sudan make their own arrangements to stay safe in these difficult circumstances," he added.
The US Defense Department said on Thursday it was deploying "additional capabilities" nearby Sudan to secure the US Embassy in the country and assist with a potential evacuation, if the situation calls for it. It includes hundreds of Marines who are already in nearby Djibouti, a US defense official told CNN, with aircraft capable of bringing in ground units to secure an embassy.
US President Joe Biden had "authorized the military to move forward with pre-positioning forces and to develop options in case – and I want to stress right now – in case there's a need for an evacuation," National Security Council spokesman John Kirby said Thursday.
Some countries have already begun the evacuation process, with Japan announcing it would send its Self-Defense Forces to evacuate 60 Japanese nationals, including embassy staff, from Sudan.
South Korea's defense ministry said Friday it would send a military transport plane to evacuate its nationals from Sudan, adding that the aircraft and troops will "watch the situation from the US military base in Djibouti" since the Khartoum international airport remains closed. It added that all 26 South Koreans in Sudan have been confirmed to be safe, and that their forces would "prioritize the evacuation."
Sudan's army said Thursday that 177 Egyptian soldiers who had been trapped in the country were evacuated and safely returned to Egypt.
However, not all evacuations have started.
Spain's Foreign Minister Jose Manuel Albares said Friday that Spain has "pre-positioned" military planes to evacuate 60 Spaniards and about 20 nationals from other countries from violence-torn Sudan, but conditions are currently not safe for the planes to land in the country.
Albares did not say where the planes were pre-positioned, but prominent Spanish newspaper El Pais reported that the site is in Djibouti in East Africa. The newspaper said each plane has a capacity to evacuate about 100 people from Sudan.
Spain's Defense Ministry press office declined to respond to CNN's questions about the number of planes sent and their location.
Meanwhile, Swedish Prime Minister Ulf Kristersson acknowledged that his country has not been able so far to take part in an international evacuation mission of both Swedes and other foreign citizens who are in Sudan, his press office said Friday in a statement.
On Wednesday, "the government made the necessary decisions needed for Sweden to be able to assist in an international evacuation mission of both Swedes and other foreign citizens who are in Sudan. Right now, it not possible to carry out that mission. We hope that it will be possible very soon," Kristersson said.
Switzerland said on Friday it was weighing evacuations of Swiss nationals and a portion of its embassy staff. The Swiss foreign affairs department said there were believed to be some 100 Swiss nationals registered in Sudan, while others were thought to be visiting the Red Sea area as tourists.
Local residents, too, are fleeing the country in huge numbers. Eyewitnesses in Khartoum describe growing lines of people at bus stops, hoping to escape the fighting. And up to 20,000 refugees from Sudan's Darfur region have fled to neighboring Chad in recent days, according to a statement from the UN Refugee Agency.
What's your reaction?
0
cool
0
bad
0
lol
0
sad