British/Jamaican rapper Stefflon Don has made it clear that she's no longer affiliated with Donatella Panayiotou and Eugene Church of the talent management agency, Connect The Dots International.
The 16 Shots rapper shared a statement to her Instagram today, directing potential promoters or collaborators to her new contact.
"I would like to reiterate that I no longer work with Donatella Panayiotou and Eugene Church in any capacity," she began.
"Anyone who wants to do business with me please do not contact Donatella Panayiotou/ Eugene Church/connectthedotsintl or Donatella@54ldn.com about anything to do with me. If you have any business enquiries, please use the email link in my bio to reach my team. STEFF@54LONDON.CO.UK."
This comes after the entertainer's jab at her former colleagues in June. At that time, an obviously irate Stefflon hurled insults at them, hinting at a bitter falling out. 
"Let me put an '@' to the person I was actually referring to since You all are so fast. Big P**** @bigdonatella (Donatella Panayiotou) You and your husband Eugene Church @connectthedotsintl Sort out this situation before I start opening my mouth."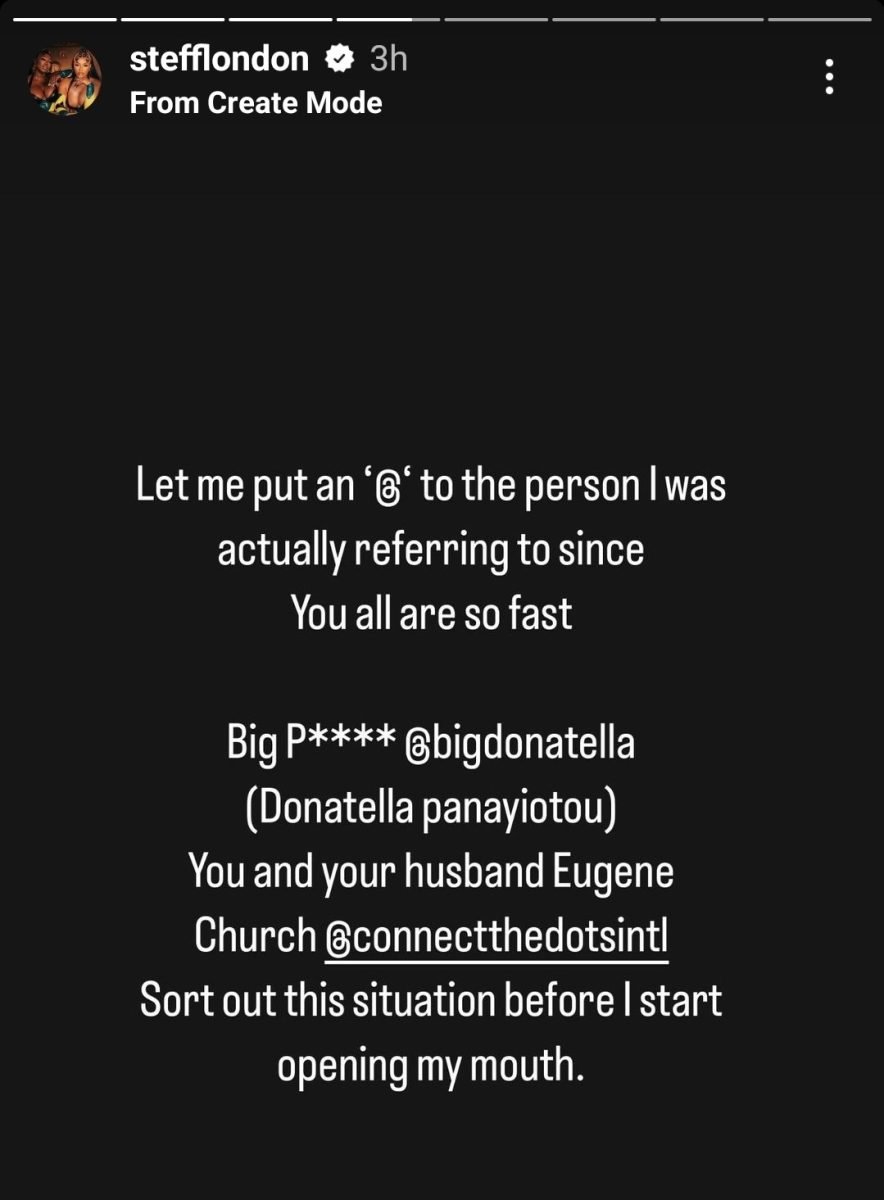 The clarification came subsequent to a story post which read, "And this is why I don't fren up no wh–ing gal." 
Many "fast" fans had speculated that she was referring to Jada Kingdom amidst dating rumours between the Esyde Queen and her ex, Burna Boy.
Stefflon's relationship with Panayiotou seems to have started after the latter linked her with Jeremih for the 2015 song London, which also featured Krept & Konan.
"There's this girl, Donnatella [Panayiotou], she used to be a presenter on Flava [TV, British music channel], and now lives in L.A. She knows one of my friends. Donnatella messaged me at like, 12 at night, when I was in bed," she told The Fader in 2016.
"She's like, "Listen, Jeremih wants to collaborate with you. I told him you're sick." She tells me to come to the studio, so I get there at like, 2 [a.m.]. And the studio's actually set up in a hotel room."
In the meantime, Stefflon Don's statement has been welcomed with understanding from her fans, many of whom took the opportunity to support her in the comments.
"Good. New management. Bigger and better moves," said one follower.
"Shame on them for whatever they did to you 👀 Good riddance …. Wishing you the best with your new team 💯🔥❤️," added another.
"Representation is just as important as talent," another supporter suggested.
What's your reaction?
0
cool
0
bad
0
lol
0
sad