Queen of Dancehall Spice says she has another hernia. 
During Tuesday's episode of Love & Hip Hop Atlanta, the seemingly worried singer admitted the medical issue to her cast mates after they noticed a distressed expression on her face.
"I'm not well," she said as she tried to put on a brave front. "I'm not doing good—I have another hernia. It's bigger than the first time. I think this one is caused because they opened my chest and they didn't sew me back so now I'm left with a big hole in my stomach."
The God A Bless Me singer further said she does not anticipate a long life because of the recurring health issues.
"I feel like I'm gonna die early," she said.
Her cast mates then tried to affirm her that she will be OK despite the many challenges.
As fate would have it, her daughter, Nicholatoy called her on WhatsApp video to show her a swollen eye. This, of course, sent Spice into a frenzy.
She then cut the meeting short, declaring that she felt like she was going to pass out and began putting things into place to take a flight to Jamaica.
The scene ended with Spice sobbing while kneeled and yelling, "Oh my, God! Everyday a something else! Oh my, God!"
Spice appears to be in a better place today, as she and her kids landed in Belize.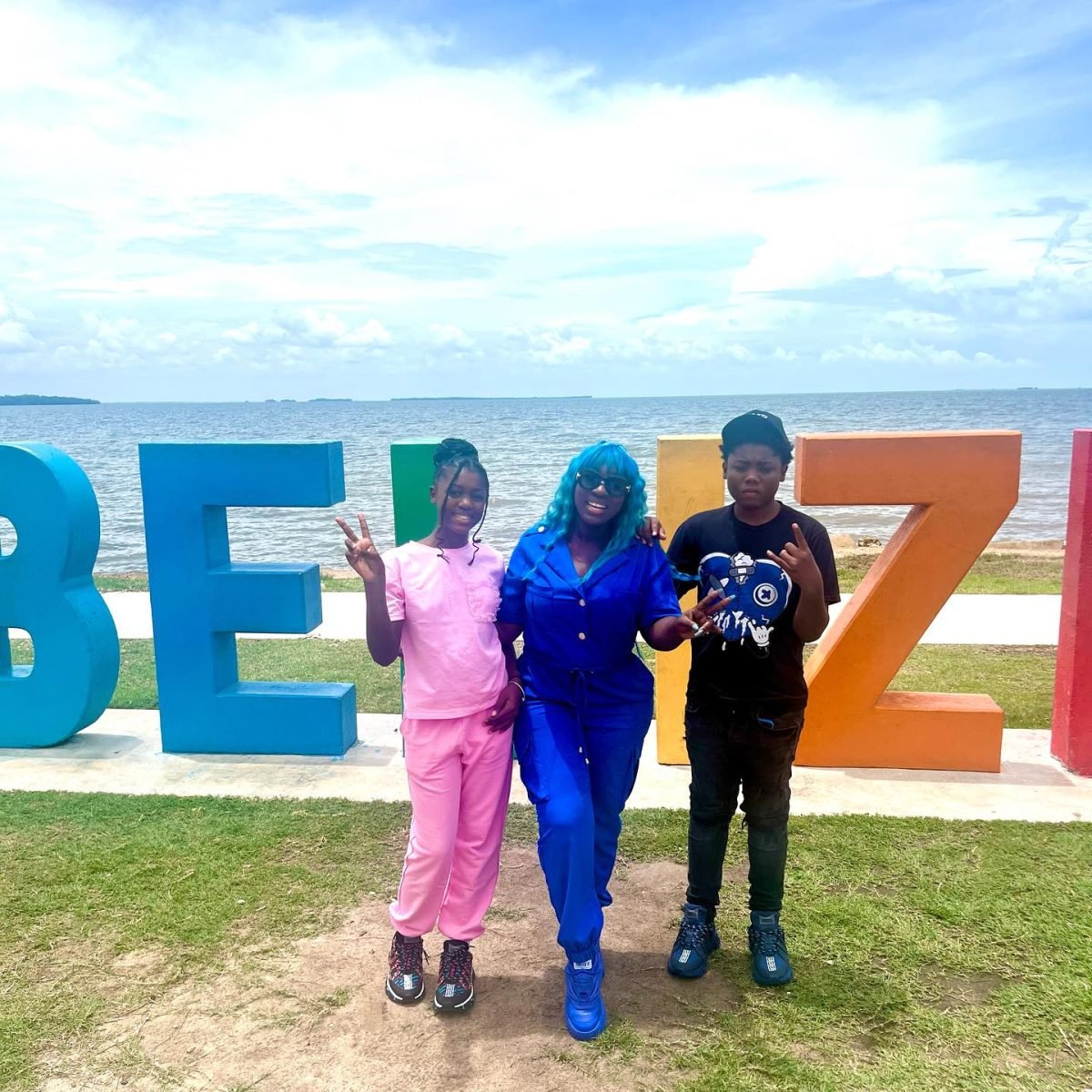 She's among the artists set to perform at the country's International Music and Food Festival on Saturday.
Back in March, the Go Down Deh singer hosted a lengthy Instagram Live session in which she detailed her near death experience in the Dominican Republic late last year into this year.
At the time, the 40-year-old explained that she initially went to the country to correct fibrosis—a condition she had developed in her abdomen after not following the recommended post-cosmetic procedures.
"As you all know, because it's no secret, I've had procedures done before; I did liposuction and I had a tummy tuck done…I was suffering from something called fibrosis and fibrosis is something that you get lumps on your belly. So, because of my past surgeries that I did before, I had something called fibrosis and it's when you don't get your lymphatic massages done," she began while showing a photo of the lumps that were in her belly.
"It started to affect me when it started showing up in my outfits…and so the lumps started to get painful. Suh sometime when unuh see people pon Instagram and because dem can use app fi smooth out, doesn't mean that everything is OK."
Spice had said that she opted for Dominician Republic for some privacy. "I decided to go to DR because I felt like I was more popular in America and because of the same thing that happens when things hit the internet, I was trying to avoid that," she explained. "So, of course, I go to DR because it's a Spanish speaking country."
"I wanted to consult and find out what was really wrong with me why my stomach was looking like that, why I was feeling pain, why I was getting lumps on my stomach. That was what I was going through. When I was in DR, as you know, when you get a breast implant it only has ten year lifespan. I got my implant changed and when I got my implants changed, I was consulting about my stomach and they did a mild procedure 'cause you know it's fibrosis so it was a very mild procedure and I was told to stay back for a couple days. I was there on vacation—I was doing fine. My ticket was booked to go back to Jamaica. I was doing well as far as I thought," she said. 
While enjoying her vacation, the Send It Up singer's friends became concerned when she started vomiting and alerted her surgeon to conduct a checkup. It was at that time that she found out that there was a hernia in her side.
"When they did the procedure to the breast, they had no reason to do scans to the side so he didn't see that I had a hernia," she recalled. 
Spice then relayed that the surgeon called an ambulance to transfer her to another hospital in the country to conduct an MRI. The results, in her words, showed that her intestines were protruding through the hernia, which resulted in its eruption. 
"Thank God I had the hernia because it erupted outside of my muscle wall. So if I didn't have the hernia which is that space in the muscle, the intestine would've erupted inside of me" she said. "When it erupted, it started to poison my body, and it sent me into a sepsis shock and the sepsis is the poisoning that kills a lot of people that's why I'm just so grateful to be here."
She later relayed that the raptured hernia resulted in the sepsis attacking organs in her body such as her lungs, and even eating away at her skin. 
Meanwhile, some of her fans and well wishers on Instagram took to the comments this week to encourage the singer to take a break and focus on her well-being.
"Spice you need to have a break from the show and take care of yourself and your babies I understand you need to make money but your health and healing comes first you got too much going on," said one supporter.
"It's time for Spice to leave the show and focus on her health," another concurred. 
"Pull back and take a break from everything get your kids and yourself together your health and mental health is way more important than this reality Tv," one more fab remarked. 
What's your reaction?
0
cool
0
bad
0
lol
0
sad