The late Sinéad O'Connor had a lifelong love affair with Jamaica. Her untimely death last week provoked spurred memories of both her eclectic career as well as her most controversial moments.
One of her most infamous moments occurred in 1992 when the singer appeared on "Saturday Night Live" and shocked the world when she ripped up a photo of Pope John Paul II in protest of sexual abuse of children rampant in the Catholic Church. "Fight the real enemy," she said while staring directly into the camera live on the popular comedy sketch show.
Grammy Award-winning producer and world-class drummer Sly Dunbar recalled that O'Connor had a good laugh about that incident decades after, when she was in Jamaica working on her Throw Down Your Arms album, released in October 2005.
"She was in Jamaica and the Pope died, and they were showing it on television, and on CNN, they showed her performance when she tore up the picture and all of us were laughing, and she was laughing. She had a reason why she did it, their people have been through the struggle, they know why, they don't just get up and do things like that," Dunbar told DancehallMag.
John Paul II, history's most well-traveled pope and the first non-Italian to hold the position since the 16th century, died at his home in the Vatican in April 2005.
O'Connor's actions 13 years earlier had led to a huge and lengthy backlash – a reaction that she herself reflected on in her 2021 memoir, Rememberings. At the time, O'Connor was pelted with eggs, booed during live shows and promptly banned for life by broadcaster NBC for her actions. But, years later, as she worked on her Reggae album, she still had retained her sense of humor about it.
"She knew why she did it," Dunbar said.
Best known for her 1990 rendition of Nothing Compares 2 U, O'Connor was pronounced dead last Wednesday (July 25th) after police responded to reports of an unresponsive woman at an address in south London. She was 56.
Sly Dunbar said that the Irish and Jamaicans are linked through a common history of oppression and colonial violence.
Both Ireland and Jamaica were British colonies. Jamaica is dotted with Irish-inspired names like Irish Town, Clonmel, Dublin Castle, Kildare, Sligoville, Belfast, and Athenry. Ireland gained independence in 1921 while Jamaica secured its independence four decades later in 1962.
"When I went to Ireland with her, sometimes we go to the store and people recognize that we are Jamaicans , they say yea man, we are family, they apparently figure that the treatment handed down to us by the British, and that is probably what drew her closer to the message of what Burning Spear was singing," Dunbar mused.
Burning Spear is best known for Old Marcus Garvey, a song where he questions why other black nationalists and philosophers are remembered and eulogized when the founder of the Black Star Line goes unmentioned. The song appears on the Marcus Garvey album, an inspired work of unquestionable brilliance.
The similarities between the Irish and Jamaicans run deep. As many as a quarter of Jamaicans claim Irish ancestry, including Bob Marley, Marcus Garvey, and Claude McKay. Philologists claim that there are even traces of Irish influence in the guttural Jamaican accent itself that grips the English Language in a half-nelson. Centuries ago, the Irish lived with the slaves, newly-arrived from Africa, and taught them the English language.
"This is where the connection comes from, what they have been through and we have been through," Dunbar said.
Dunbar was impressed with the range of protest songs that O'Connor chose for her Reggae album, which consisted of cover versions of classic roots reggae songs, with production by Sly and Robbie.
"She covered all male songs, she picked all of them. I was surprised at her knowledge of reggae music, when she sent the list of songs come, we said 'wow, she know all ah dem songs ya'. dem. And when she came in, she was prepared, she had everything right, melody and everything, she knew them inside out," he said.
Sinéad O'Connor did a cover of Peter Tosh's 1977 recording of Downpressor Man, while her cover of Marcus Say Jah No Dead bears a striking resemblance to Burning Spear's a cappella version featured on the Rockers soundtrack.
"I love everything she does, cause she is a very nice person, a very calm and easygoing person. I was listening to the album yesterday, sometimes it takes you years after you do an album to really listen to it and enjoy it. People used to talk about it that they loved it. Sometimes you want to know why they loved it, and look at it as a template because you get so many good reviews and response from people say they loved it," Dunbar shared.
The album was recorded in Kingston, Jamaica at Tuff Gong Studios and Anchor Studios in 2004 and released by Chocolate and Vanilla on October 4, 2005. It was reported that 10 percent of the profits went to support Rastafari elders in Jamaica.
When Sinéad O'Connor was touring to promote the album, she did several other reggae covers such as "Rivers Of Babylon" (by The Melodians), two Peter Tosh songs, "Stepping Razor" and "Creation", and Bob Marley & The Wailers' 1976 anthem War, which she had also done on the infamous SNL episode. Sinéadwas drawn towards the hoarse, soul-stirring voice of Burning Spear, aka Winston Rodney, and his potent reggae militancy.
"When we were playing New York at the Ritz (with Sinead), he (Burning Spear) played the entire show with us you know, played percussion. Last night, I was listening to some recording of it, I didn't know they were recording it, and I said 'wow, it really sound a way you know', it have a vibe, Burning Spear bad man," Sly Dunbar said.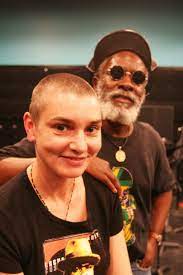 Her Throw Down Your Arms album was certified gold in Ireland with sales of over 7,500 units, and peaked at No. 4 on the US Billboard reggae albums chart.
Dunbar added that he enjoyed hanging with O'Connor during the Throw Down Your Arms tour.
"Everything was sold out on the tour, everyone was waiting on her. There was supposed to be a second part of the tour, but she got pregnant, so it wasn't done," he said.
Dunbar said he didn't remember anything about her personal likes when it came to Jamaican food and culture.
"I was more concerned about getting the record sounding good and trying to make it please her, so she loved it and trying to make the buying public love it, they are the ones who take their money and buy it, so it was about getting it close to perfection," he said.
Dunbar described the late star as a "great artist", "a nice and loving person" and "a radical and an activist at the same time".
O'Connor appeared to be a tormented individual who struggled with suicidal thoughts. In an interview with Oprah Winfrey in 2007, O'Connor spoke about living with bipolar disorder and in 2017, she shared a video on social media in which she said she was living in a "motel" and that she was "not staying alive for me."
What's your reaction?
0
cool
0
bad
0
lol
0
sad