American rapper and model Rubi Rose is enjoying some downtime in Negril, Jamaica.
The 25-year-old, who first gained fame as the main "baddie" in Migos' Bad and Boujee music video, posted a TikTok vibing to Skillibeng's Badman, which is quite fitting considering that she tweeted that she's "in Jamaica looking for bad man."
The TikTok—which sees Rubi clad in a black tank top and black bikini bottom—caught Skilli's attention. He quickly posted the clip to his Instagram page with the caption "#badman."
Badman, which appeared on Skillibeng's The Prodigy mixtape, has garnered over 10 million plays on YouTube since its December 24, 2020 release. More recently, Skillibeng named dropped Rubi Rose in his May 2023 song 16DEM, in which he deejayed: "A we gun them a sing like Rubi Rose."
Rubi's quest to find a "bad man" caught the attention of hundreds of local "suitors" and The Jamaica Constabulary Force (JCF), which comically responded by saying: "We are looking for them too. Hit us up when you find them. Call us at 311!"
The rapper hit back with: "A real bad gyal will never tell 🤫"
In May 2023, The JCF, which has employed the use of various Dancehall-themed campaigns, lyrics, and memes on its social media pages, emerged victorious at the Jamaica Chamber of Commerce's 38th Annual Awards Gala in the 'Marketing Excellence' category. The award recognized the JCF's digital engagement tactics, particularly its strategic use of social media.
"We are immensely proud to receive this award at this time and we accept it on behalf of the entire team at the CCU. Some time ago we decided to change the way we engaged with the public. We felt that we could use social media as a tool of a wider social transformation," Head of the Constabulary Communications Unit (CCU) SSP Stephanie Lindsay said at the time.
"Last year we decided to change gear and move even more aggressively along that pathway, where social media is concerned."
Meanwhile, on her Instagram Story, Rubi shared a photo posing beside a member of the force. She and a few of her friends enjoyed Campari Dream Weekend's Wet N' Wild party at the Kool Runnings Water Park yesterday (Sunday).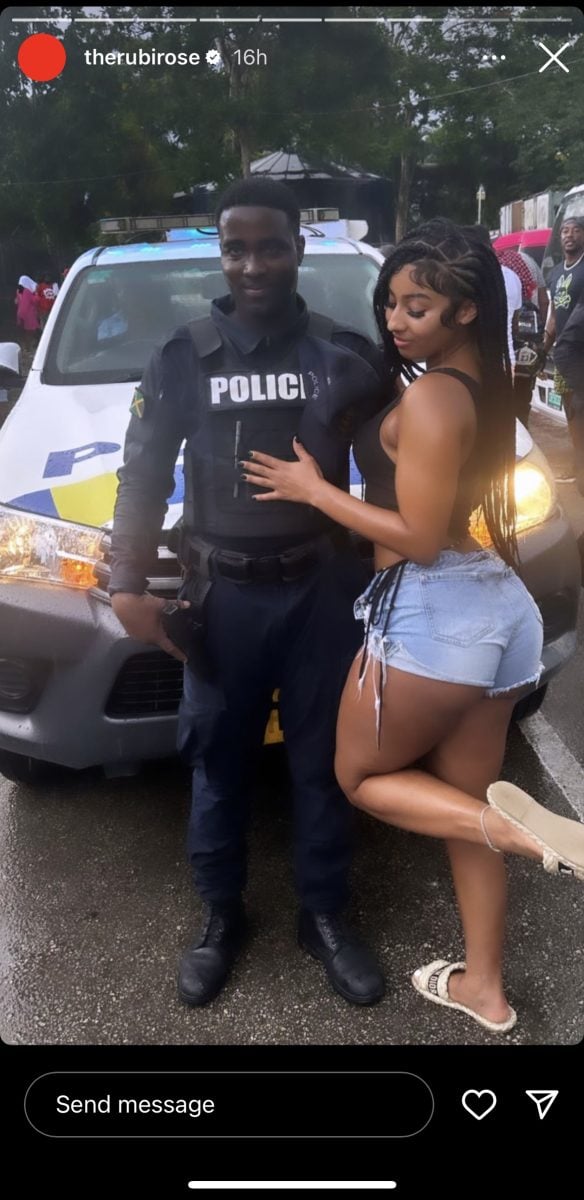 Dream Weekend, which began on Friday, July 28, will end tomorrow, August 1.
This year's lineup includes Shenseea, Ding Dong, Skeng, Chronic Law, Stalk Ashley, Valiant, Roze Don, and Wayne Wonder. All acts were booked according to the theme of each event over the five days.
Shenseea already graced the stage at the Daydreams White Sands event on Saturday. Following the set, she reminisced on her journey as a bottle service girl at the same event 6 years ago, to where she is now.
What's your reaction?
0
cool
0
bad
0
lol
0
sad