Reggae Sumfest culminated its pearl jubilee on the weekend and it's fair to say the Downsounds Record team balanced the 'trending' with the trendsetters.
The festival boasted new-age dancehall darlings like Valiant and 450, and even embraced an increase of dancers across the two concert nights. Standing out were the slew of TikTokers like Ackeem and the Highflames crew, who've been integral in the success of songs from performers like Teejay and Roze Don. Even Tanya Stephens, who usually performs solo, nabbed Dance Xpressionz to add some color to her set.
In the midst of the modern was reverence for those who paved the way, executed in tributary segments like the session-style spectacle of Admiral Bailey and Lt. Stitchie in honor of production icon King Jammys. 
From the infectious energy of Richie Spice to the impressive clarity of first-timer Bayka, the Catherine Hall Entertainment Complex came alive to give each act their shining moment. In case you missed it, here's a breakdown of this year's top performers at the "greatest reggae show on Earth."
10. Stalk Ashley 
One of few female acts at the festival, Stalk Ashley easily stood out by the confidence she oozed on stage and her effortless crowd engagement.
In a world where female acts are often propped up with dancers and bedroom antics, she needed no twerking fandangles and held her own "as a bad gyal". Working each end of the stage, Stalk Ashley serenaded fans with favs like Waste Man and Young in a presentation that was smooth, demonstrative of her vocal talent, and flirty yet tasteful.
While she sounded the same live as on her records, she wasn't bound by exactness. She made things interesting by interpolating Byron Messia's Talibans on her and Skeng's song of the same name. She was as comfortable in her skin as she was in her set, which briefly included two dancers for uptempo rockers like Dutty Casamigos. Experience her cool confidence in the clip below. 
9. Romain Virgo
Romain Virgo is unquestionably a clean performer. The layout of his setlist is thematically logical, his vocals are clear and crisp, and his band is coordinated in dress, melody, and movement.
These elements rang true at Sumfest, but it was his interpolated tracklist that broke the monotony of perfection and introduced spontaneity. Case in point, the crowd jumping with excitement after he masterfully reeled off Sizzla's Holding Firm during a performance of Fade Away. Just when you thought things couldn't get any more creative, he went soca, fusing Kevin Lyttle's Turn Me On with his upbeat jam Good Woman.
Clad in a pink suit, women and children were a cornerstone of his presentation, rewarded with deafening horns as he belted Dutty Man. Ladies danced the morning away as he sang tunes like Love Doctor, Don't You Remember? and Rich in Love. The diversity of his catalogue was also on display, echoed across songs like Mi Caan Sleep and Leave People Business Alone. Get a taste below!
8. Tommy Lee Sparta
With Sumfest marking his biggest return to the stage since being released from prison in March, Tommy Lee Sparta was surely one of the festival's most anticipated acts. By his own admission, his two-year stint behind bars helped him get off pills and an affinity for sexual orgies, but his incarceration also proved beneficial to his stage performance.
His new gym bod boosted his stamina on stage, and though he was sometimes off-key due to shouting, he was able to deliver the gritty vocals that have made him enigmatic since 2010.
Perhaps the most magical thing about his set was his vulnerability. It was the most personal fans had seen Sir Sparta on stage, from his vocalisations about prison-yard chats with Vybz Kartel, to his testimony that any bad seed can turn around in the right environment. Yes, he was singing the tracks that brought him fame like Some Bwoy, Buss a Blank and Warn Dem, but he was a mature, healthy and more self-aware Tommy Lee which was met with cheers and horns.
Balancing the serious with the fun, the deejay got the crowd lit with his party anthems Under Vibes and Rich Badness, even getting social by recording a challenge for TikTok. Check out Night One's closing act below.
7. Teejay 
Because how many people can get Entertainment Minister Olivia 'Babsy' Grange to do the 'drift' dance??? While it's standard for artists to close with their biggest tune, Teejay flipped the script by starting with the summer anthem, bringing some of the TikTokers who helped it go viral.
The dancers sported glow-in-the-dark costumes, complementing the glow sticks Teejay bought and disseminated to friends in the audience to make his performance "look good".
He then segued into other songs that elicited welcoming reactions from patrons, like Shub Out and Henne and Weed, the latter he used to remind the audience of the power of self-belief. The hunnies weren't left out, sweetly-serenaded with tracks like Attention, Unfaithful Games and UpTop Boss. 'Drift' into his set below.
6. Minister Marion Hall
Minister Marion Hall's Sumfest booking was already a big deal because she'd last performed as the Queen of Dancehall Lady Saw in 2015, months before giving her life to God. She had closed Night One that year, and this time, closed Night Two. But the performance was symbolic beyond these surface reasons.
The gospel singjay had announced her intention to give away Bibles ahead of her set, as she felt the word was needed more than ever. But she revealed the real reason for the 1000-Bible donation during her emotionally-charged performance. Holding a dilapidated Bible, she received years ago at the same venue from a stranger, she said she'd probably not gotten baptised had it not been for that gesture, inspiring her to do the same for others. Patrons flooded the front of the stage to get leftover books in an unprecedented moment in Sumfest history.
Hall brought down the house with God's word and the fire of Lady Saw, though some didn't stick around to see it. Some patrons mimicked her impassioned mannerisms as she charged "choppas" to change their lives, and challenged Prime Minister Andrew Holness to seek some holiness.
Also igniting the crowd were her controversial songs, Kiss Out Mi Bible, Nuh Go Obeah Man and the latest, The Jesus Mi Know. Then came full-on Sunday service with Hall's more traditional gospel records like Room in My House and Mi Soon Alright. As she praised God, she, too, was celebrated through Red Stripe's Living Legend award. Watch patrons spin their roll and give a hallelujah in the clip below.
5. Morgan Heritage
Ushering in a Sunday morning to the sweet sounds of Morgan Heritage, especially when they've not touched the Sumfest stage in over a decade, is tranquility personified. Led by Peetah Morgan (who still sounds the same!), the reggae royalty delivered a set that paid homage to the greats while honoring the timelessness of their own music.
Their late father, Denroy Morgan, was remembered through Gramps' tear-jerking performance of People Like You, while producer Bobby Digital, who was instrumental in shaping their sound, was honoured through flawless performances of New Time, New Sign and What We Need Is Love. Toots Hibbert and Freddie McGregor were also saluted, to the resounding approval of the audience.
The Morgan magic continued with pull-up requests as they sang hits like Down by the River, Liberation, She's Still Loving Me and Your Best Friend. Flags waved and bodies swayed even when they introduced new music from their latest album The Homeland, of note, the afrobeat-flavoured Who Dey Like U for which they had vibrant dancers. Watch Peetah, Gramps, Mojo and Una give patrons the ultimate 'reggae night' in the clip below.
4. Kabaka Pyramid
From him and his Bebble Rock band being clad in white (even the flag man), to his well-curated set, Kabaka Pyramid had the cleanest presentation at this year's Sumfest.
Delivering songs from his Grammy-winning album The Kalling, the singjay voiced his mission to get all patrons out their seats, mostly achieved when he reeled off a contentious freestyle. The song blazed fire on critics displeased with his Grammy feat, while lyrically-popping his collar for defending righteousness and steering clear of guzu, molly and chopping songs.
Also in the mix were crowd favs like Warrior, Can't Breathe, Well Done and the Chronixx-collab Mi Alright. The icing on the vegan cake were his two featured acts: Tifa, who drizzled some sexiness for their Mr. Rastaman collab, and Jereme Morgan whose soothing vocals reminded everyone to be Grateful. Experience Kabaka Pyramid's set in the clip below. 
3. Masicka 
Masicka has gotten better at live performances and he knows it. Indeed, he delivered non-stop hits for an entire hour, but it takes more than a fire catalogue to be the talk of the town. He didn't indulge in his usual "dash weh dat" transitions, instead singing each song beyond the first verse. The slower pace offered him greater breath control and vocal clarity, and he better understood the keys he's most comfortable singing in live, reducing vocal strains.
The improvement decorated his cool confidence. Between songs like Infared, Dem Ago Dead, Update and I Wish, Masicka trailed off in his own two-step vibe, cheesing and working the stage from left to right. The women weren't left out as he got up close and personal with screaming belles for 10 Outta 10, Moments and Blessing. He closed things off with the hit Tyrant, bringing veteran and new-gen dancers on stage (new for Masicka too) which excited the crowd. A standing ovation awaited Masicka when he exited the stage, and trending status on YouTube for being a total showstopper. Get a taste below. 
2. Valiant
All phones were out at the sound of Valiant's voice, and with emotionally-raw outbursts and a pop rendition of Barbies, he'd make it worth the while.
His Sumfest debut was laced with toasts to God for his blessings, and reflections on his journey to making it to the world-renowned reggae festival. His intense emotions were perhaps behind the graininess of his voice, amplified by his joyous jumps and spirited stage command.
Though he employed darting ballet dancers for Barbies, Valiant proved to be his own dancer with the occasional 'fada rock'. His charisma shone in his ability to connect with the audience and musicians, and he actually seemed to be having a blast on stage, which translated to fans. The cherry on top was, of course, a banging catalogue, from Dunce Cheque and Glock 40, to Siance and North Carolina, which he mixed like a pro. "As a ugly, handsome, f–king boy," check out how Valiant did at Sumfest below. 
1. The Big Ship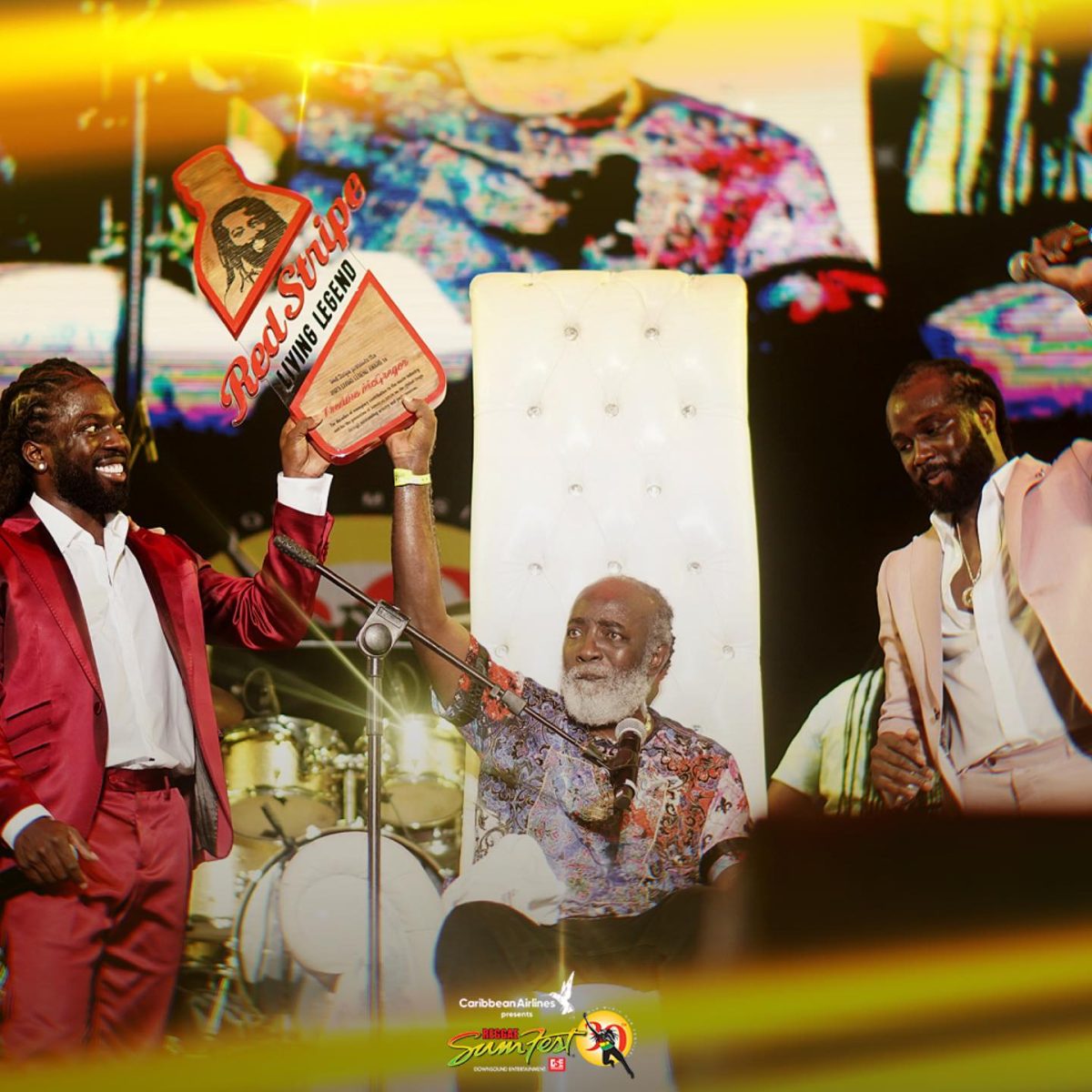 Seeing The Big Ship crew on stage wasn't just a visualisation of family, but the humanity of Jamaicans when presented with one of reggae's finest singers and musicians, Freddie McGregor.
On the mend after suffering a stroke, 'The Captain' didn't punch his usual velvety vocals but the audience was a total sport, supporting his right-hands/children Chino, Stephen 'Di Genius' and Shema on background vocals. Almost testing their loyalty with If You Wanna Go, cheers and horns grew louder like that's our Freddie, and we're gonna stick beside him!
Between classics like Prophecy, Push Comes to Shove, Let Him Try and Wait for You, came vulnerable moments of gratitude to supporters and the Most High for sustaining him through illness. Adding more sentiment to the set was Red Stripe awarding him a 'Living Legend'.
Before somebody started cutting onions, Chino and Stephen reminded patrons of the untouchable legacy of Big Ship, delivering classics like Protected, new music and solo bangers. Chino's stage virtuoso shone through performances of Never Change, Ruff It Up and Call We Name, while Stephen showed he was more than the production prodigy behind-the-scenes, stepping up to sing hits like Cya Friend Again, Careful and Cya Tek We Life. Sail with the Big Ship in the clip below. 
What's your reaction?
0
cool
0
bad
0
lol
0
sad