It appears that Popcaan wants to remind everyone that he's responsible for giving some former Unruly members their break in the industry.
In a quick Instagram post-and-delete on Tuesday, the Unruly Boss shared a throwback photo from a 2020 Onstage interview, where he introduced several crew members, including the now-rising star, Valiant.
The photo also included producer/artist Dane Ray, and former Unruly artists Quada, Frachess One, and Unruly Cuz, who were all featured on the True Story Riddim released that year. But the caption, which read "them have memory loss," accompanied by laughing emojis, was widely perceived by fans as a subtle dig at Valiant.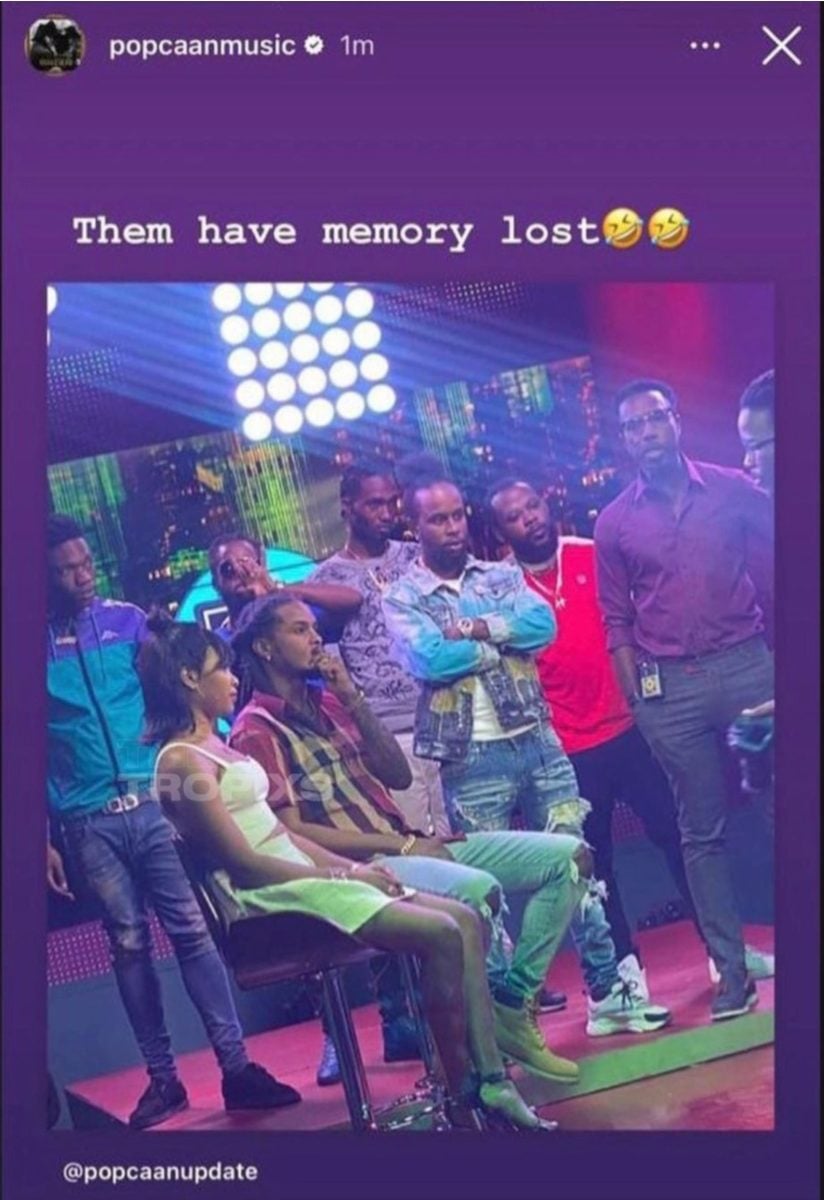 Many thought the post came from a place of "badmind," and insinuated that the Firm and Strong deejay didn't want to see anyone in his crew become more successful than he is.
One Instagram user remarked, "Popcaan is the definition of, 'I want you to do good but not better than me'. Not one of the ppl in that picture still around him."
Another chimed in with a more critical tone, suggesting that Popcaan was more interested in surrounding himself with sycophants rather than nurturing talent. "Popcaan nah push nobody career. Him only want one bag a yute round him like "yes man". Once him see di talent, him try fi kill it rather than build it. Cause no man nuh fi more Dan him," they said.
In a twist, Popcaan's sister, Annalecia 'Unruly Squid' Sutherland, jumped into the fray, defending her brother and asserting that she had advised him to remove the contentious post.
"Suck unnu madd, I told him to delete it because these f-cking people is irrelevant!!!" she wrote in an Instagram comment. "God knows what he did for them! God knows the true story!!! He don't need to share sh-t for low life people to understand!!!"
It's worth noting that during the aforementioned Onstage interview, Popcaan was lauded for his efforts in supporting young talent. He had spoken earnestly about his desire to see emerging artists thrive, emphasizing the ripple effect of one artist's success on their family and community.
"Ah dat mi want see. Mi love see when di youth dem win, because mi know how di ting go," the Family deejay said.
"Mi like when time di youth dem a get the opportunity fi show dem talent and can make money and take care of dem family. Cause when time a youth make it out of the struggle, when him a go foreign, ah nuh him one a go deh. Him a go carry him friend, him a go carry him family so done know, him a break bread with other people too weh not even ah sing, so is a blessing," he added.
Yet, the recent Instagram post seemed to overshadow these past sentiments, with many recalling a 2019 incident where Popcaan had publicly criticized Valiant during a performance, suggesting he needed more "training."
One person remarked: "Mek Popcaan move him bloootcl—t, you never believe inna the yute! Him must remember him embarrassed the yute on stage in front of big crowd & say he wasn't ready! Now he did his homework & come back you want to take his stripes! Move & gweh!"
Others thought the Unruly Boss wanted some acknowledgment for "bussing" the Mad Out artist.
"Poppy you did not "buss" the man," one person contended.
Another agreed, "Never believe inna di yute‼️ah could ah never praise yuh want ‼️bigup valiantttt ‼️him never stop believe inna himself‼️‼️believe nuh mannn‼️," said another.
"Popcaan never like when Kartel did this to him now look at him doing the same to valiant," another person claimed.
Meanwhile, in an Instagram post yesterday, Valiant added fuel to the speculation by sharing a series of photos and videos from a recent performance in Tortola.
One video, in particular, seemed to allude to the ongoing controversy, with a veiled reference to someone "on the hill."
"Ah mad dem a mad out pon di hill enuh," the Speed Off singer said.
What's your reaction?
0
cool
0
bad
0
lol
0
sad