Popcaan and 10Tik appear to have traded subliminal shots on social media following their appearance at the Unruly Boss' back-to-school event last month. Video from the charitable event showed that Popcaan interrupted 10Tik's performance, allegedly due to his use of profanity in front of young attendees.
Some onlookers viewed Popcaan's intervention as a sign of disrespect towards 10Tik, who gained significant attention in 2021 with his hit Roll Deep. Others argued that 10Tik's choice of language was inappropriate for the charitable event.
On Monday — drawing inspiration from a recent incident where Popcaan attacked Dancehall singer Denyque over a suggestive t-shirt depicting him eating a watermelon — 10Tik seemingly seized an opportunity to mock the Inviolable deejay.
He posted a video of himself smashing a watermelon on the roadside and teased a supposed diss track, titled Wrong Fruit. "Sweet sweet Jamaica! We nuh response a WHOO!!! #wrongfruit," he captioned the video.
In a subsequent Live video, 10Tik — a former firefighter — further addressed the situation, arguing that the word he used isn't considered "bad" globally and should only be deemed inappropriate when used disrespectfully.
"Stop talk 'bout bad word and youths. You can't teach youths nuh fi cuss bad word and den when dem reach 18, bad word ah weh dem ah get paid fi cuss. Bad word is weh dem get admired fi cuss," the deejay said. "Because the word is not bad anywhere else in a di world, so how ah word fi be bad? Weh di the word mean? Di word have meaning?" he continued.
"So dats why you see people a grow up a tun fvcking ediat. A bay double standard teaching and principle uno in ah. The only time a word bad is when yuh ah use it against a person, even mi friend dem, it nuh matter wah di word is," he said. 
He elaborated further on the power of words and their impact: "It could ah even be a t-shirt. You nuh see a melon we use and kill boy … ah we represent fi di yute dem in a real life." 
Popcaan, not one to stay silent, took a more indirect and comical approach in his response.
On his Instagram Stories, he appeared to take a jab at 10Tik's dental hygiene, writing, "Quick fun facts, you are not allowed to dis or style nobody if you have rotten teeth!!!" accompanied by a series of laughing emojis.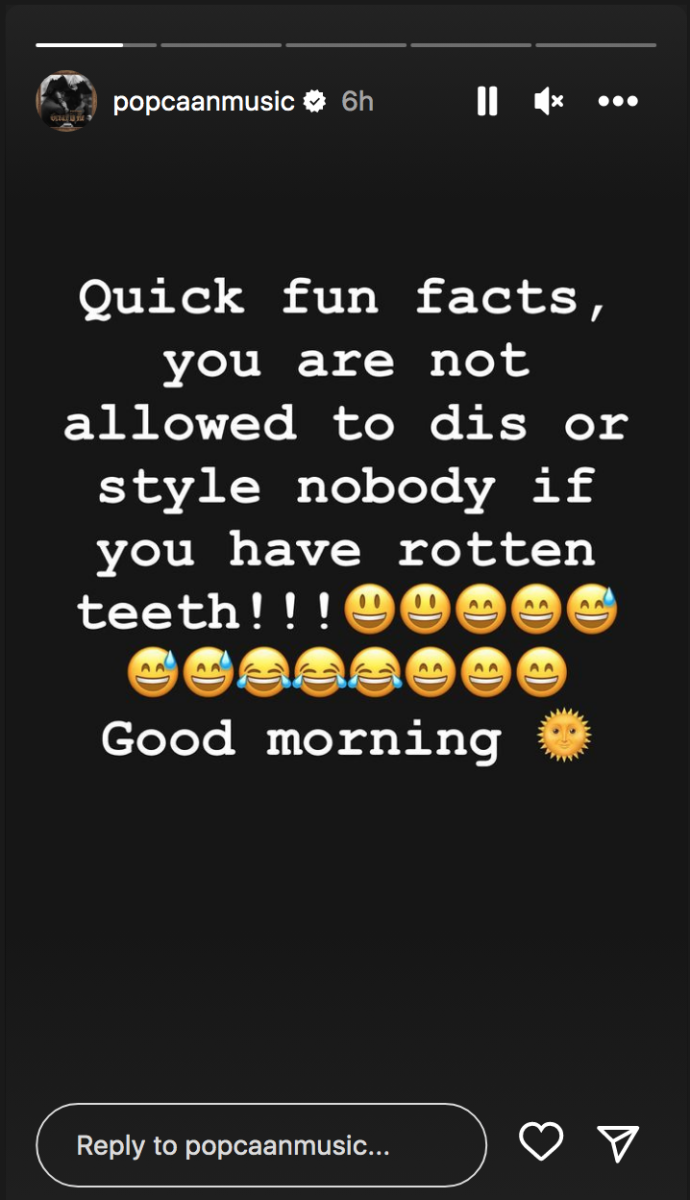 Meanwhile, fans online have criticized 10Tik for his statements. "You haffi guide the youths right," said an IG user. 
Others commented, "Yo this is pure ignorance to the highest. Man ask if word have meaning?" and, "So dat mea[n] say u teach dem fe smoke, gamble and drink because dem ago tun 18 and dweet anyways? 🤔" 
"Teach fi u pickney that not other people pickney," remarked another.
What's your reaction?
0
cool
0
bad
0
lol
0
sad