Minister Marion Hall has made the proverbial lemonade from lemons, as her contentious "kiss out mi bible" lyrics has now become a slogan for her new line of t-shirts.
The shirts, which are made of soft cotton, and priced at US$30, were available at the Reggae Sumfest official souvenir booth at the Catherine Hall Entertainment Centre, on Saturday night, where she served as the closing act, in a performance that lasted from dawn until after 7:00am. 
During her performance,  Hall who was clad in combat boots and a military green coat and pants, was at pains to ensure that persons who are of the view that her "kiss out mi bible" line was not ungodly or blasphemous, as some persons within and outside of Christendom have been contending.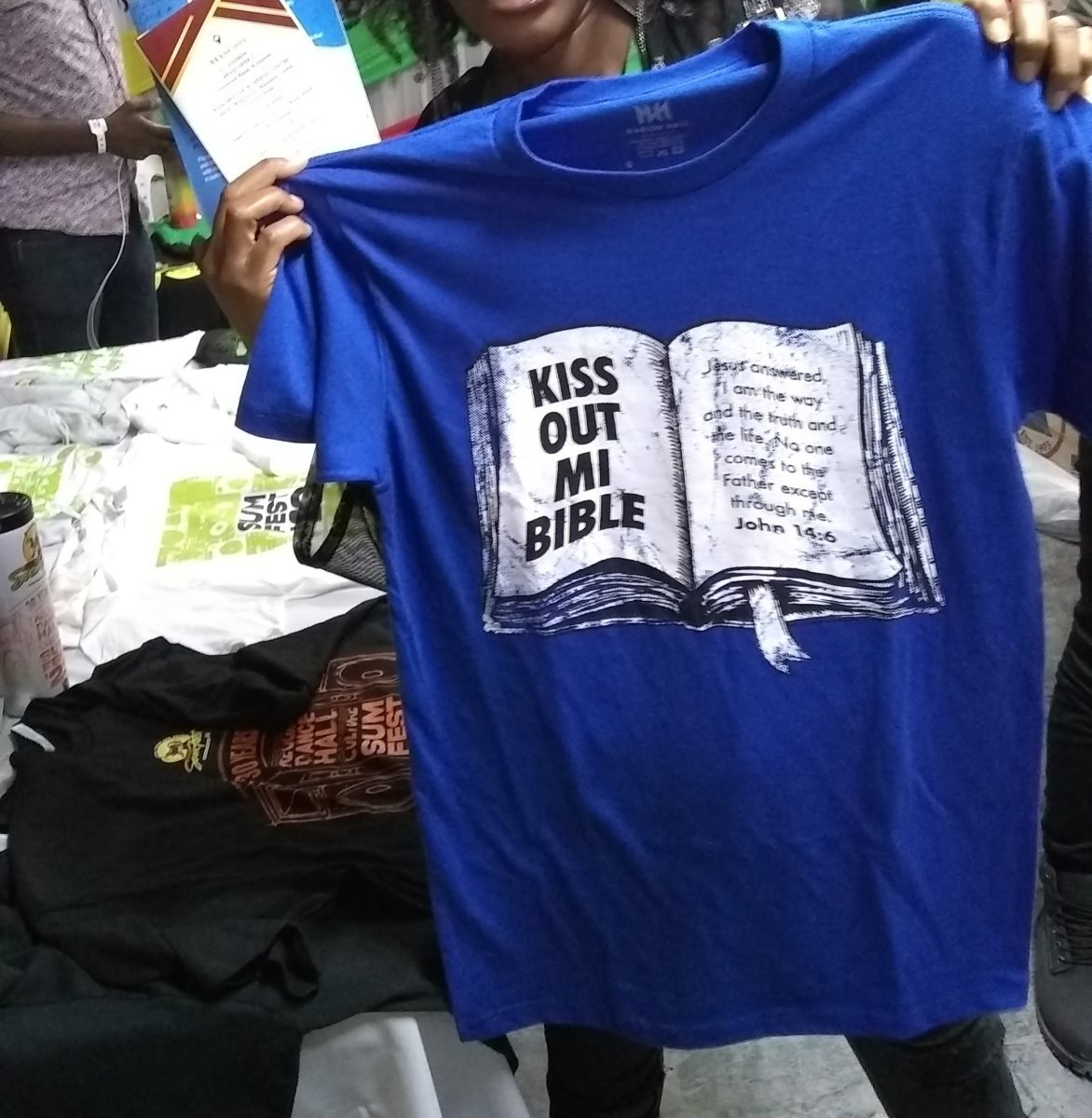 Prior to performing Kiss Out Mi Bible, Hall who appeared on the verge of tears, explained that the Catherine Hall venue is where she got her calling to return to Christ. 
"I was lost in sin. You remember.  Not even soap coulda wash my mouth.  Suh when you hear me say Kiss out mi bible, it means you should consume the word," she told the riveted audience. 
She also called on her pastor, who baptised her in 2015, Everton Thomas to read the scripture Ezekiel 3 verses 1 -4, which she pointed would give persons a better understanding of the meaning of kissing out the bible.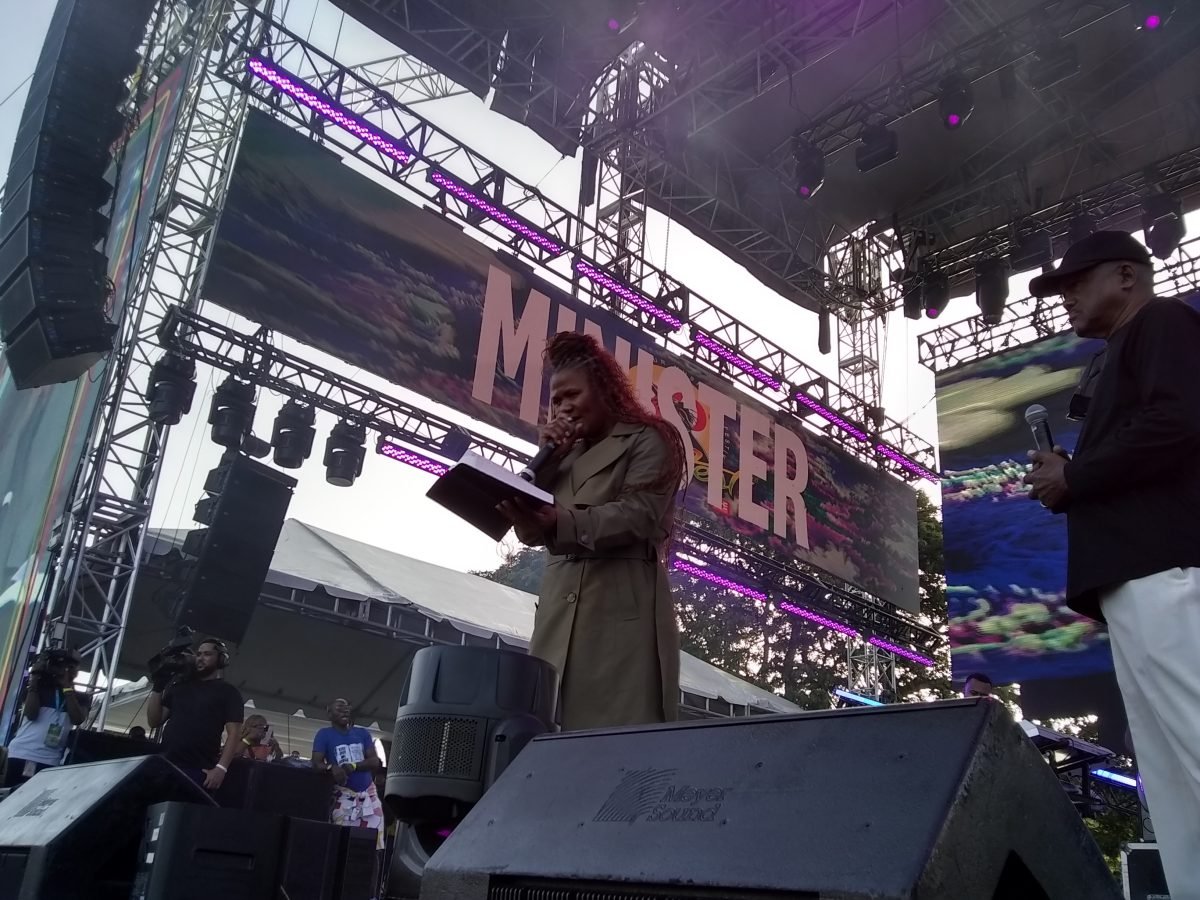 The scripture reads: "And he said unto me, Son of man, cause thy belly to eat, and fill thy bowels with this roll that I give thee. Then did I eat it; and it was in my mouth as honey for sweetness. And he said unto me, Son of man, go, get thee unto the house of Israel, and speak with my words unto them."
After the verses were read, Hall went on to explain that her method of evangelizing, was what she described as an "unorthodox" one, and was the way she was instructed by God to go about doing his business.
"I don't understand my calling many times, when God send me places or give me stern messages to preach.   And when you all curse me out I go back to him and I cry.  And he tell me that my calling is unorthodox," she explained.
At the beginning of her performance, Hall first admonished the scammers of Montego Bay and told them to throw away their talismans and other witchcraft paraphernalia as these cannot help them to walk through the 'pearly gates'.
"Throw weh di dutty obeah ring weh yuh have," she deejayed, later stating that "Duppy can't frighten mi caw Satan know mi by name."
She also had words for the "church people dem", who have been judgmental of her, ever since she got baptised and became a Minister of Religion.
"Mi waa ask fi church people dem; di religious, righteous… let me ask you this: how yuh fi know him when yuh nuh want mi do him work?  How yuh fi know him, when yuh a block mi from di church? How yuh fi know him when yuh a try shut mi up and there are so many mansions in my father's house?" she chanted.
"How yuh fi know him when yuh naw meet di woman a di well?  How yuh fi know him when yuh a wife up Jezebel and a look dung pan di pastor weh name Nathaniel? Nathaniel asked, can anything good come out of Nazareth?   And you say can anything good come out of Lady Saw?" she said.
"Jezus drink wine; him dine wid man weh do crime.  Him ordain prostitute and seh 'girl you're mine'.  If yuh think God nuh call mi den yuh way backa time… It is not God will that any should perish," she added.
What's your reaction?
0
cool
0
bad
0
lol
0
sad