Minister Marion Hall is urging TikTok sensation Brittany 'Brit' Goffe to give her life to God. 
Her plea comes days after the internet star claimed she was beaten and robbed at a party in Montego Bay, St. James, clips of which have been floating online. In one video, Brit is seen in an altercation with a DJ on stage, resulting in her receiving several blows to the head before tumbling on stage. 
"When I saw her, I saw the older me – the Lady Saw me," the former secular act said during a sermon on Wednesday. "I was looking at the older me and God took me to a place that I need to talk about today that some people are in…"
She continued, "When I saw that young lady, I felt so sad for her.. I've gotten beaten before, and when she fell on the ground, on the stage, I realised nobody defended her. Nobody tried to stop it… When she gets sober, maybe she is today, I pray Brit that you will look on what took place on that stage, and I don't want you to just look. Ask God to open your spiritual eyes to see beyond just you lying on the stage… What the devil does is he covers our eyes when we're in sin – we're blind. Sin looks good when we do sinful things, remember who I was…"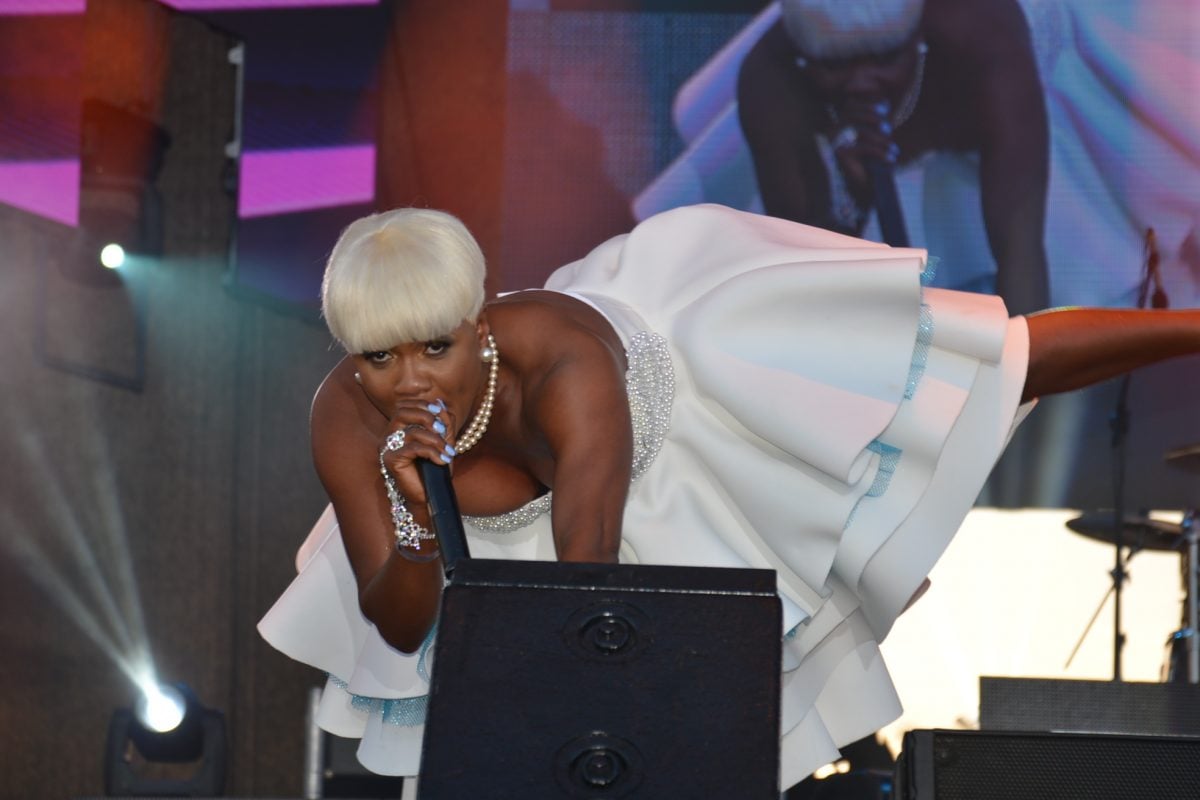 Hall got baptised in late 2015 but still keeps her ears to the pop culture ground. Her advice and opinions on the music and lifestyles of celebrities like Shenseea and Spice have come under much scrutiny, and she acknowledged the possibility of Brit airing her out. Nonetheless, Hall came with a written page of messages for the controversial TikToker.
"You make me wanna cry; I want you to know that Brit," she said. "Run now, run… If I didn't run when I ran, I wouldn't be here today. It's only gonna get worse Brit, run… God is showing you something. God is giving you a sign to run Brit… When you run, just trust God that He will take care of you… Seek ye first the kingdom of God and all His righteousness, and all that you need will be added on to you."
Injecting her song If I Was Famous, Hall told the viral star to be wary of the cost of fame, and to instead use her charismatic pull for God's glory.
Brit recently caught the attention of rap superstar Nicki Minaj who showered her with high-ranking TikTok gifts. 
"Stop lowering your standards, lowering yourself because of likes," Hall said.
"I see Nicki sending money for you the other day. I like how cool you were. You were like, 'Why you chose to send me money?'. Her reason was, 'I like you'. God loves you and as I say your gift will make room for you. God loves you, He loves you more than anybody."
"God give you the gift to speak because you get attention, right? Use your mouth and speak for the Lord. Use your platform and encourage young people like yourself. Do it Brit. Go to God with your concern. Go to Him with your brokenness."
The Sorry to Hurt Your Feelings singjay has often said her ministry is catered towards broken people. She is currently seeking US$2 million in donations to build her Holy Ghost Pentecostal Church of Jesus Christ.
What's your reaction?
0
cool
0
bad
0
lol
0
sad