Jamaican singer Jada Kingdom said she had no knowledge that the rumor mill was spinning about an alleged relationship between her and the African Giant—Burna Boy.
During an interview with Zip 103 backstage at the recently concluded Reggae Sumfest, the Love Situations singer was asked about the speculation.
"I'm on the streets everyday. I've never heard that," she responded.
The Zip hosts explained that their curiosity was piqued after Burna mentioned an intimate relationship with Kingdom in the recently released remix of Byron Messia's Talibans.
"Oh he did? I would have to listen to it," Jada replied, once again, seemingly clueless.
In the official remix, Burna does not hold his tongue during his verse: "Ah di best p#m p#m deh ah Kingston, so me buy ah Birkin for Jada Kingdom," he sang.
Burna Boy's line might be referencing Jada's verse in her June 2 collab with The 9ine, titled Turn Me On, in which she declared: "You gon need a birkin if you wanna show me off."
Jada Kingdom caught everyone's attention over the summer when she showed off a pricey Birkin handbag and a bouquet of roses, presumably gifted to her by Burna Boy. To note, the price tag on a Birkin bag can start from around US$10,000 and reach up to US $250,000 for the more high-end designs, according to Bagover.
More speculation rose when she was spotted wearing his "Damini" diamond chain on her neck.
Also, earlier this month, she joined Burna Boy in the Netherlands for his 32nd birthday (July 2) at a restaurant and later at a club with a group of friends. 
But hey—if she said she doesn't know—she doesn't know, right? 
Meanwhile, Jada and fellow entertainer D'Yani performed their popular track Feelings for hundreds of adoring fans on Saturday.
She noted that it was their first time performing it live and that the remix came about organically.
"When he just teased the song on Instagram, I seen the clip and I was like, 'dah song yah bad eeeh!' That's it…I was like now mi need fi remix dah song yah. I waited until he dropped it, it do its ting and I remixed it, linked him and he was like [muffled screams] and he dropped it and do a likkle video and the rest is history," she shared.
Added 'Twinkle': "We didn't plan anything…we didn't have rehearsals. I just now seen him since I got here."
Her sexy orange two-piece sent many tongues wagging, but it would be a lie to say there were complaints. The young artist said she was happy she decided to grace the stage after bailing last year.
"Well, I was supposed to come here last year and I flaked. I was like, no, dah crowd yah look stiff…but, D'Yani give me the courage to come. He was like, 'we neva perform the song before suh yuh fi come' and I was like, why not? Alright! It was good. It wasn't as bad as I thought," Jada said.
She also performed tracks like GPP and Heavy.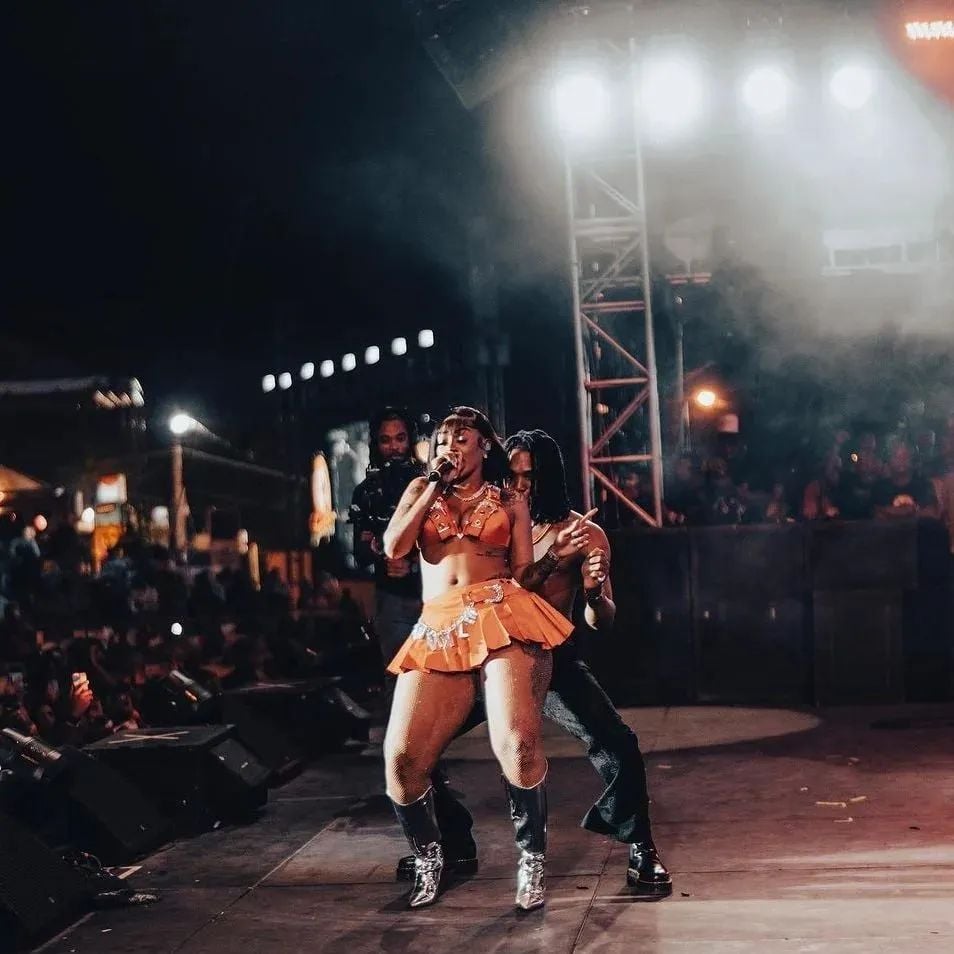 What's your reaction?
0
cool
0
bad
0
lol
0
sad