Supreme Promotions' Isaiah Laing has admitted that the drama that A'mari "DJ Mona-Lisa" and Queen Ladi Gangsta brought to Sting 2022 had a positive side as it caused the event to "trend" globally for two days in a row.
Laing made the revelation after initially downplaying the effect of the comedic display, while speaking with The Star during an interview. He was asked whether or not he thought "the clash with Queenie and A'mari gave Sting a bad name."
"I think people overdo dat though enuh. Because that was just a gimmicks clash. Tha wasn't a real nutting," Laing responded.
"But is just that a lot of the females keep calling down mi phone dat they want that clash: 'do it, do it, do it'… and then it cost so much money to book people from so far. It nuh meck sense really," he reflected.
Laing then acceded that the two women's actions were what propelled the name Sting on the lips of many across the world.
"Yes, it meck Sting trend. So I am not going to beat it either. That's true. Sting trend for two days straight to number one. Everybody in the world was asking what is Sting? Suh, wi haffi give kudos to dem too. People a cuss an a seh dis, but there is a good side to it. It is true," he stated.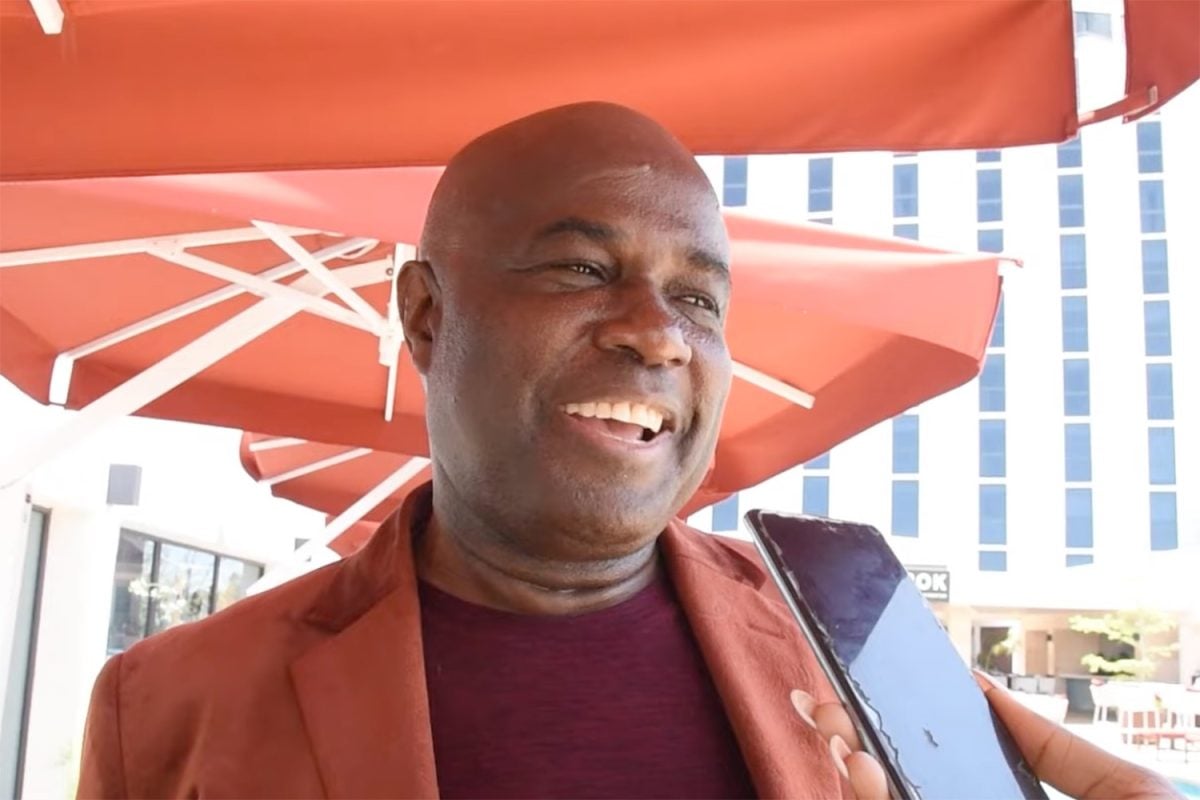 During the clash, A'mari had started an onstage brawl by hurling invectives at Queenie, ripping off her 'wedding dress' before proceeding to engage the Double Tap artist in a cat-and-mouse chase. Queenie had, in turn, dragged the Neko artist's wig off her head and tossed it aside, the audience erupting in laughter as she continued to sing the hook of Double Tap over and over.
Responding to statements that Sting got both praises and a beating in the aftermath of 'the clash', Laing said, contrary to widely-held claims, he was not the one who instigated the battle, but that it resulted due to widespread clamoring, particularly from female Dancehall fans, that there be a showdown between the two ladies.
"Is you people who asked for that clash. It wasn't me or anybody from Supreme you know. Because I sent people to do interviews and the people are saying 'not dat clash. Wi talkin about A'mari and Queenie'," Laing said.
"Dat wasn't in my books any at all, because I knew something was planned from another company for something to happen on the stage… but it was set for dat to happen, cause you notice di artiste neva came out to work; di artiste came out to fight," he added, referencing A'mari.
With respect to the stampede backstage. which erupted and which many people thought caused the premature end to the show, Laing asserted that it had nothing to do with any of the clashes onstage, but due to police orders for the show to end.
"The reason for that stampede was because the police said the show should stop and Heavy D had asked everybody to come on the stage to at least do a song. Suh everybody was rushing to get on the stage one time, an di police was sayin too much people up there," the former police inspector said.
Hours after the event came to an end, leading scholar on Reggae/Dancehall and University of the West Indies Professor Donna P. Hope, had called on Supreme Promotions, to put a permanent closure to Sting, describing it as an "existential crisis".
Professor Hope had laid the blame squarely at the feet of the Supreme Promotions for the litany of woes that plagued the event, among them a sub-par line-up, inexperienced emcees; below-par production, poor scheduling of artists, and substandard stage management.
"Poor lineup, poor production, poor running order organization, poor stage management, inexperienced hosts, unsettled artiste contracts, no-shows etc. This cannot be it. Sting is in an existential crisis. It is time to pack it in," Professor Hope had declared on Instagram.
The Culture, Gender, and Society lecturer had said that the A'mari-Queenie showdown, which she described as "the Comedy Buss Debacle between social media favourites", which ended up being the trending topic from the event, was a sign that Sting had completely lost its identity, meaning and purpose.
The UWI lecturer, who is also known as the Dancehall Professor in music circles, due to her extensive academic work and publications about Reggae and Dancehall, had pointed out that from the outset, Sting 2022 had seemed destined to be a mockery.
According to her, she had "declined all invites to attend the return of Sting 2022 after its last staging in 2015".
"This is a show that I have been attending from the 1980s at the Stadium. The confusing lineup and behind-the-scenes vibrations for 2022 already told its own story," Professor Hope had written.
In maintaining the view that Sting had "a few good points, but was woefully inadequate", the Professor had insisted to some of her followers that Sting's "time has obviously come" and that "institutions transform, transition and also die".
"There are other Dancehall events that match this current era. Today's artistes do not need Sting to buss or maintain relevance. Dancehall and its fans and supporters deserve to have the Brand showcased at its best. This isn't it," she stated, adding later: "This is OUR culture. We must speak truths. One-off artistes forming the fool can be ignored. But Sting is a Dancehall Institution of long-standing. They have a responsibility to uphold".
What's your reaction?
0
cool
0
bad
0
lol
0
sad