Reggae artist Samory I is set to release his debut solo album, Strength, on November 17. Produced by Phillip 'Winta' James (Protoje, Chronixx, Damian Marley), the album features 11 tracks and guest appearances from Lila Iké, Jesse Royal, and Mortimer. It follows his 2017 collaborative album, Black Gold, with producer Rory "Stonelove" Gilligan.
According to the artist, the new album represents the struggles he's overcome, and also his three-year-old son, Jahseh, who is featured on the cover in a stark, black and white photo shot by Yannick Reid.
Over the past year, he has released singles like Blood In The Streets, Crown, and Wrath with 2023 Grammy winner Kabaka Pyramid and Reggae/Dancehall star Capleton. These songs have received significant radio play and global attention, with BBC1's Sir David Rodigan praising Samory I as a leading figure in modern reggae. Samory I is also currently featured on the cover of three European magazines: Echoes in the UK, RIDDIM in Germany, and Reggae Vibes in France. Given the buzz around the upcoming album, now is an ideal time to hear from the artist himself.
First of all, thank you so much for joining. I know that this is your first solo debut album, so what I want to know first of all is why you decided that now was the right time to debut a solo project. 
The time is always now, Queen. There's no such thing as a bad timing for the music—you know what I'm saying? I guess it's within the Most High's timing and not my timing.
Mhm. So, how long did it take to you to complete this project?
*chuckles* Yuh know mi an Winta been working on this project since 2018. The first single was recorded in 2018–a song called My Son, and it was supposed to just be a few singles but with the vibe and the energy, it turned into an album.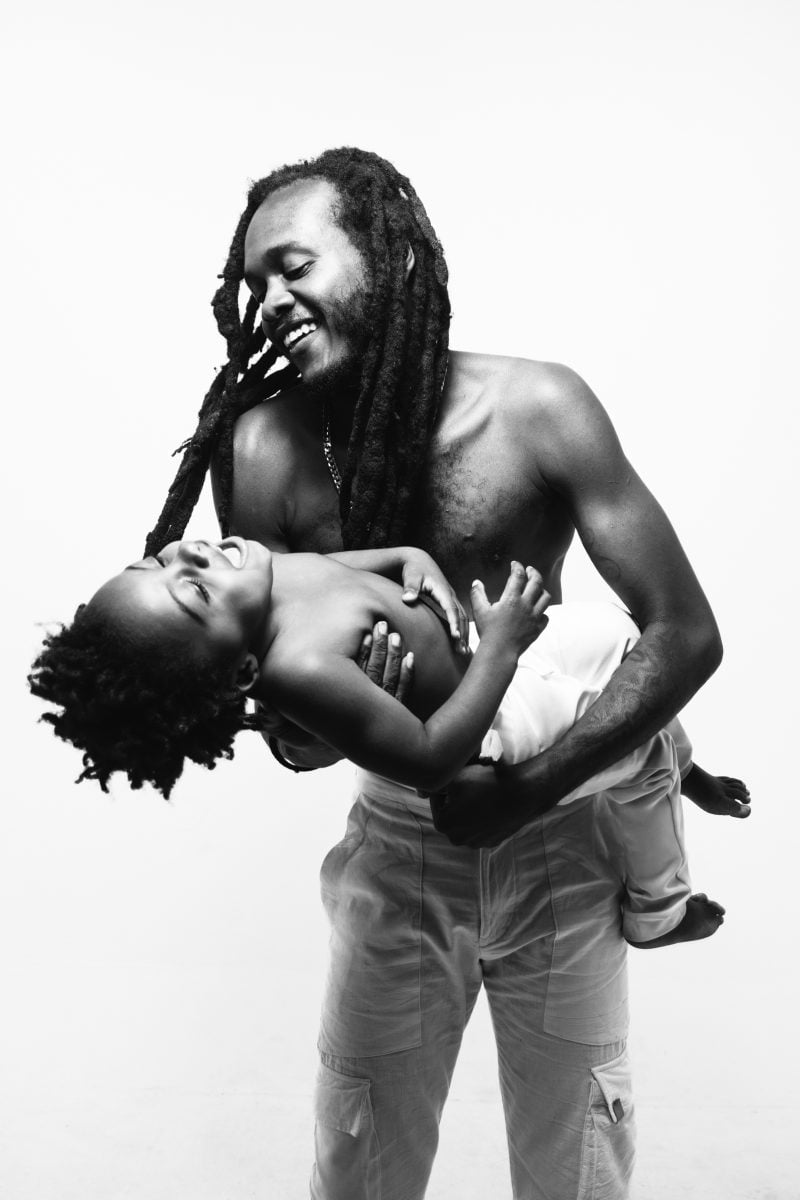 Yeah? What are your hopes for the project once it's released in its entirety? 
I mean, I don't really have any hopes. All I want is the music to reach every ear. It's just for every one to get a chance to listen to the music…get the music out there, get the word out there…
I listen to your music as well and I find that one thing that's consistent is that your music evokes good energy and good vibes. What do you draw inspiration from when you are recording or writing your songs?
Yuh know mi nuh know how di music come out suh, 'cause mi come from a really dark place an' mi draw from mi pain. Is mi pain mi sing from why di music sound like dat. Mi nuh know how it come out like dat but is always songs of inspiration, songs of hope an' songs of joy.
OK, let's backtrack a little. Where did you grow up?
I grew up in Kencot that's close to Halfway Tree… the inner city of Kingston.
What inspired you to pursue music professionally?
Queen, you know I man got shot though? The lifestyle I was living it couldn't last forever… it's either death or jail. Within that time of my injuries, I could slow down and that got me thinking…
You said you got shot? 
*both chuckle*
Yeah. Umm, wow! Well, I'm so happy that you would've survived something like that. 
Yeah, true…give thanks to the Most High.
In terms of your family and your friends, are they supportive of your career? 
Mhm! I mean, I was going so fast, everybody wanted me to slow down. Me doing this right now, it makes everybody happy compared to the other way… it was just scary.
What would you say is your biggest song to date?
A song called Rasta Nuh Gangsta and Love and Mercy…I was depressed from that so I took a break from music just to gather myself together. I was going to stop doing music 'cause I felt hurt. Differently, Ching and Diggy [Protoje] mek mi start singing back again, so, big shoutout to them.
You say Chi Ching Ching and Protoje gave you that push to resume your music. How did they do that?
I had a beat from long time. At the time, my then-partner asked me to write a song about weed…I took the time to write a song called Life is Amazing, and when the beat dropped, I heard Ching. So I called Ching and Ching came and linked me like a few days and mi tell him seh, 'yuh know seh mi done wid da chune yah' and him seh, 'yuh crazy?!'…from mi play di verse…and Diggy pressure mi fi come out ah mi place 'cause mi nah go outside an' mi guh link him and do a collab fi him album—a song called Heavy Load on his album. The song was about what I was going through…
I love that song, by the way. Yeah, Life Is Amazing—I think it's my favorite song from you.
Thank you.
Reggae music has taken a shift as with all genres in the world. But, what are your thoughts about this new sound that we have in Reggae?
My sound is old school, but I'm still getting used to it. I love the music. I really enjoy writing…music ah fi dis generation fi bring forward di yutes dem.
Is there any artist in the industry that you haven't worked with that you would like to?
Everybody weh mi nuh work wid, I'd love the opportunity to. It doesn't have to be anybody special, or anybody 'big' or 'small' yuh understand? As long as I love the music that you do, we can work together.
Can I put you on the spot a little?
*both chuckle*
Are there any specific artists you expect to be nominated for a Grammy in the Best Reggae Album category?
Weh yuh seh? Buju…Beenie…mi ah expect all ah di man dem fi do good, not just di one dem weh ah do righteousness but di one dem weh ah do music.
I really want to give you the opportunity to say anything that you would like to say to your fans, family or friends.
Giving thanks for the continued support. Without the support, I wouldn't be having this interview right now. The support ah weh me call strength suh give it some strength.
Alright! Thank you so much
Yeah, you're welcome.
What's your reaction?
0
cool
0
bad
0
lol
0
sad