Exactly fifty years ago will forever be etched in the memory of multi-disciplinary artist and musician Lee Jaffe. He had been spending time with, and working alongside the legendary Bob Marley and The Wailers as they embarked on their first North American tour.
Coinciding with the 50th anniversary of the Reggae band's historic debut in the US, Jaffe has partnered with Howl.xyz for an NFT, titled Hope Road 73, featuring never-before-seen visuals that Bob and Lee created together.
From his base in New York, Jaffe had a chat with DancehallMag as he painted a picture of the sacrifice, thrill, challenges and overall fond memories that were cultivated in July 1973. He wore a bright smile indicating how enthusiastic he was to share many untold stories of that particular week, and he sure did not hold back. The conversation was as follows:
To begin, I want to know how the connection came about between you and Bob Marley, and by extension—The Wailers.
I met Bob by chance. I was visiting a friend in New York through a friend called Jim Capaldi from the group called Traffic, and they were a huge group at the time. They had just played a show at Madison Square Gardens—a sold out show. I went to visit him after the show at his hotel and there was this Jamaican guy there and Jim said, 'you have to hear his music.' They had a cassette and the cassette was a just finished and still unreleased first Island Records album of The Wailers. It was called Catch a Fire and the guy with them was Bob.
Bob was in New York to buy equipment for the band to bring back to Jamaica to start rehearsing so they could go on tour when the album came out to support the record. I spent 10 days with Bob showing him New York and helping him buy equipment. I helped him pick out the Les Paul that became the guitar that he used forever. The reason I suggested that guitar was first of all the way it looked; it had this natural wood finish and also, that model was very light and I thought well, this would be very easy for him to use while moving around on stage. 
The other thing that brought us closer together was my best friends from college were the biggest herb dealers in New York and I took him to a stash house on the Upper Westside of Manhattan where my friend was stashing some herb, and he had a false wall that he had designed and you could press a button and the wall opened up and there was 700 pounds of there! Bob was super impressed with that.
Oh, wow! So, when did you or you and Bob decide that OK, you were going to work together?
I got invited to go on a 10-day trip by record company founder Chris Blackwell. He invited 10 people to go on a trip including Bob and Jim Capaldi to go from Kingston to Trinidad for carnival and Chris had rented a DC-3 and we all kinda just filed in there and did some island hopping…After the trip, when I got to the house on Hope Road—Chris had bought the house at 56 Hope Road…it was a big house and he put a small office there and there were several bedrooms for people to stay and there was a shack at the back of the yard that used to be the slave quarters for the Great House. When I arrived there with Chris and Bob and a small entourage, Peter Tosh was in the shack Family Man (Aston Barrett)… they were rehearsing, so, this incredible music was coming out of the former slave quarters. And Chris who I was so used to being around asked me if I would be willing to organize a North American tour to support the record. At that time, Island Record had been very successful, their headquarters was in London and in North America, they didn't really have a presence. They were licensing all their records to Capital Records. They didn't really have the support. I didn't really know anything about organizing a tour but, it didn't seem like it was rocket science and I felt there was nothing else more important in the world that I could be doing than to help than to get The Wailers' message and music out to the world.
So, that tour, what was the experience like organizing and actually executing it?
Well, I had to organize the passports. Bob, Peter and Bunny had passports but the others hadn't been out of Jamaica and I had to organize the visas. I had to book the dates.
Once all of that was done, and you were on the road what was that experience like? Was it seamless or did you have any difficulties?
The first thing that happened was we had an immigration lawyer in New York who was organizing the visas and they didn't arrive in time. Everything was booked; we had the first dates booked. It was a week in Boston and then a week in New York at a club called Max's Kansas City. The lawyer organized for us to get into the country by way of Niagara Falls because he knew a guy that worked in immigration at the Niagara Falls entrance. So, we organized tickets to fly to Toronto. But, what happened was, when we got to Toronto, and the immigration guy at US customs in Niagara Falls—his shift was from 4 o' clock to midnight. We organized to arrive in Toronto with enough time to drive to Niagara Falls but when we arrived in the afternoon, the Canadian customs held us. They went through every piece of luggage…they kept us for hours and hours and then they found one herb seed in Peter Tosh's luggage and then they kept us for hours more. Finally, they let us go, but we weren't gonna arrive at Niagara Falls till 4 in the morning. I called our lawyer and he organized to wake up the guy to come and let us in and that's how dreadlocks arrived in the United States.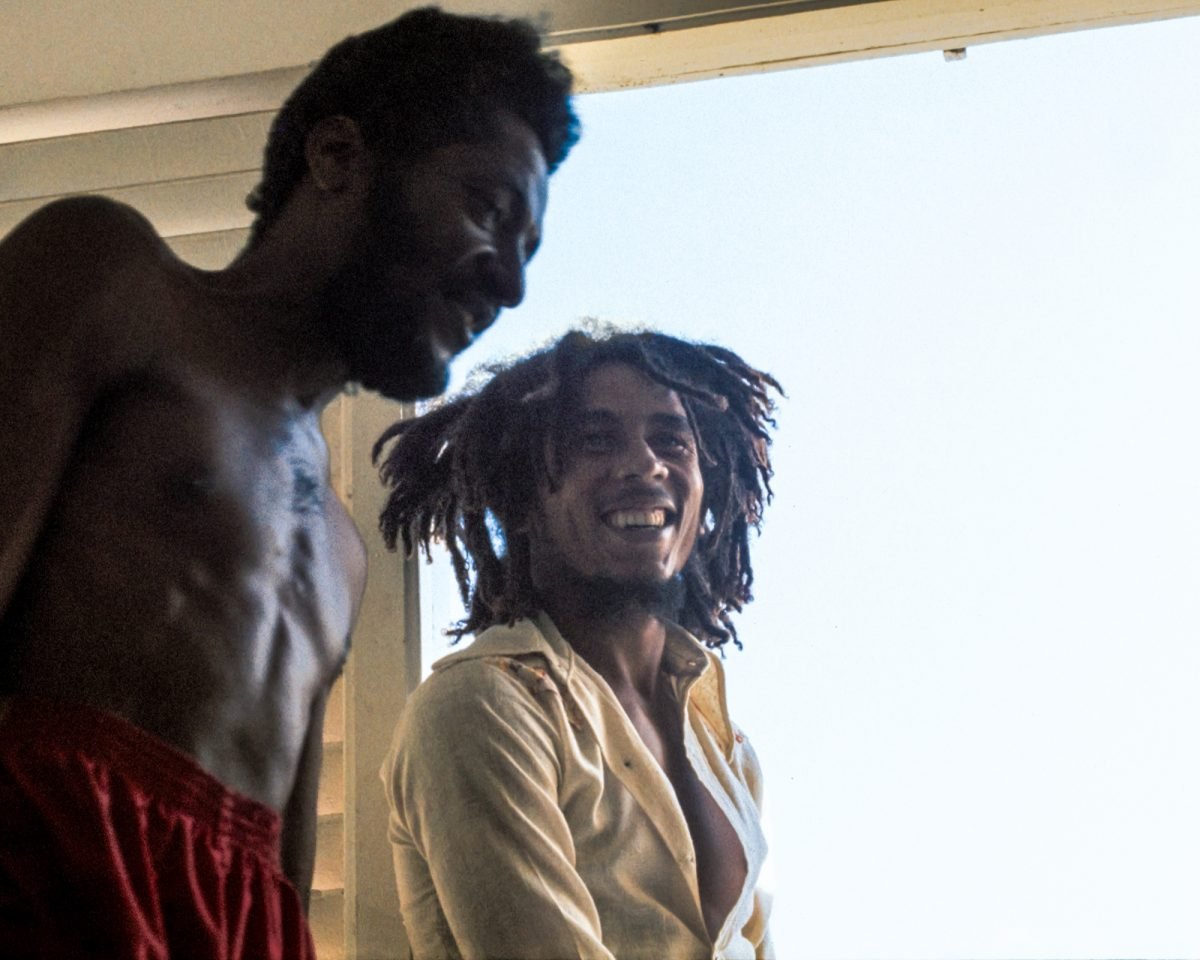 What a story! Besides that, how was the rest of the tour?
Boston was great. We played at a really good club—small, but, it was the kinda club that new acts were like the best new acts. We got a lot of attention. Also, the local radio station in Boston, BCN, was the first radio station that I was able to get The Wailers played on commercial radio in the US. I got really lucky because in New York, there was a club called Max's Kansas City and it was also like a sort of cutting edge culture of artists, filmmakers and the best musicians hanging out…I remember so distinctly, I went down to the club, and the album Catch A Fire, it opened like a zippo lighter…I opened up the disk and gave it to the guy who did bookings, he put it on the turntable and the first song was Concrete Jungle and it destroyed the myth of the happy, colonialist view of what the Jamaican society was supposed to be.
After The Wailers broke up, what would you say were the implications that that had on their personal careers?
I was in Jamaica. I was living at Hope Road and I was there all through the recording of Burnin of which all three of them participated and the record came out as The Wailers and I went on the Burnin' tour in North America as well. I organized the station wagons and carrying equipment and making appointments for interviews and all. At the end of the tour, neither the Catch A Fire nor the Burnin' album sold any copies so there was a lot of financial stress on the three of them…and then I worked with Bob.
I was there through all the Natty Dread records and Peter and Bunny didn't wanna be involved anymore and that's when I got to play on those songs: Road Block and Talking Blues, and for me that was a major event in my life. Bob was still obscure, but in my mind, he was the most important artist in the world and I was playing on his album! He got a manager so I wasn't in charge of booking the next tour but I got to play on stage on the Natty Dread tour…and Peter, I got a call from him and he said, 'can you come and listen to these songs and I flew down to Jamaica and I went to his house in Spanish Town and on his acoustic guitar, he played me 30 incredible songs and that's when I realized why he left Bob, because he had these incredible, classic, iconic songs that needed to be recorded and he really didn't have a way. The way things were going on those first two albums, to go through making another one and then maybe have one or two songs—I think it was a matter of he was an artist needing to creatively record these songs and give them out to the world.
Thank you so much for your time! It was an incredible story.
Thank you. I have tons and tons that I could share! 
What's your reaction?
0
cool
0
bad
0
lol
0
sad