Reggae legend Bob Marley not only pulled capacity crowds as he swept through Europe, but caused many venue records to come tumbling down, and shocked The Vatican.
June 27, 1980 was the date on which the St. Ann native played at his largest concert ever to an estimated crowd of 120,000 people. The show, regarded then as Italy's biggest concert event of all time, also united warring Italian communist, anarchist, and fascist youth groups, who instead peacefully rocked to the sounds of Reggae in the Stadio San Siro in Milan, Italy.
The event was one of the 33 shows in Europe and sections of the US, which formed part of Marley's Uprising tour that year.
"It's the first time in his career that he was performing in Italy.  That tour, that year he broke every attendance record that was ever set by any other group.  Not just Reggae; any group at all," Copeland Forbes, Reggae My Life Is author and former road manager for The Wailers, told DancehallMag.
"The biggest venue in Sweden hold 30,000 people and him put 50,000 people inna it that year.  The booking agent that booked him, in London – Alec Leslie. You know what he said to me?  He said 'Copeland, if Bob had lived one more year, I would have retired a rich millionaire'.  A lot of people did not know, that tour that year, Bob was just given a guaranteed figure and the agency and everybody took care of all the expenses.   What he did, he gave Bob a half a million dollars.  Half a million dollars is big money fi you carry home in 1980," Forbes added.
Named among seven concerts that made history in Italy, alongside groups such as The Beatles, Rolling Stones and Bruce Springsteen, Marley's Milan concert has been described as "the first of the great live concerts in stadiums" in Italy.
"Bob Marley's tour came to Italy and shattered all kinds of records, most of which are unbeaten in stadiums to this day," notes Italy's Velasca's Million Steps magazine.
According to Forbes, who also managed Peter Tosh, the feat accomplished by the Rastaman from Nine Miles in St. Ann, even shook Pope John Paul over in The Vatican, who was bewildered that a man from such a tiny country had pulled the biggest audience ever, in Italy. 
"That year when he played at San Siro Stadium he broke records of attendance and that was the first time he was playing in Italy in his career.  Its three countries that he was playing for the first time: Switzerland, Italy, Ireland and Scotland," Forbes explained.
"And then what happened, you know, the Pope is the biggest draw in Italy.  Nobaddy caan outdraw him.  And when the Pope hear that this concert had over a hundred thousand, all now him still a spin di globe dem bwoy seh, an caan find di country.  Becaw him seh 'where is this man from?'  And they said 'Jamaica'.  And him a spin di globe and dem find di likkle dot and seh 'it's this little dot.'"  
"Him outdraw di pope.  It was a very historic year and a very historic moment for him," a proud Forbes said.
A June 2019 Neil Morris article in The Gentleman Ultra publication titled Years of Lead, Songs of Freedom: When Bob Marley played the San Siro outlined how Marley, backed by just his I-Threes, singlehandedly presented "one of the most remarkable events in musical history" which also "proved to be a watershed moment for the generation raised in the Years of Lead".
The Years of Lead was described as a political divide in Italy from the late 1960s to the late 1980s, in which "the country became a symbolic border between the Eastern and Western Blocs; a cold war battleground where a generation of politically charged youths were recruited into a campaign of terror supported by international security, intelligence and counter-intelligence forces".
Morris' article noted that throughout those years, not only more than 400 people lost their lives, but it was not uncommon for political groups to use sporting and music events to carry out recruitment campaigns, where leaflets were distributed on football terraces as Ultra groups linked to political factions sought to boost their numbers.
It said that while on the Curvas, groups from different political ideologies rarely mixed and usually gathered in different areas of the stadium, separated by fences or barriers.  However, in music venues, there were no organised Ultra sections and no barriers or fences as "concertgoers of all ages and political persuasions were funneled into venues and stood shoulder to shoulder, creating a breeding ground for political tension".
Prior to Marley's visit, there were various fracas when musical events were held in Italy, among them one by English rock band Led at the Vigorelli Velodrome in Milan on July 5, 1971, where police had clashed with several smaller groups known as Portoghesi before the event even started. The Portoghesi were renowned for trying to force their way into events without paying.
"High-profile concerts featuring Chicago, Rolling Stones and Humble Pie also ended with tear gas attacks from the police. And anyone who went to a concert did so in the full knowledge that violent incidents were likely," the article noted.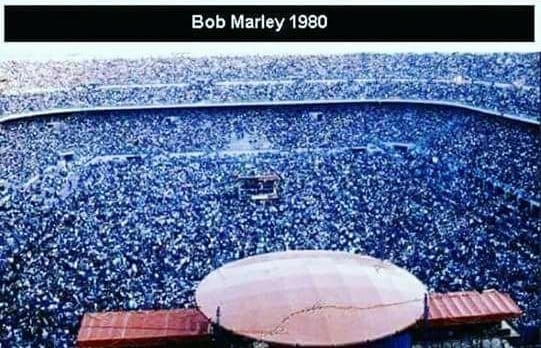 The author said that Marley's concert in Milan was "a huge risk for organisers" as previous concerts with crowds of just a few thousand had "turned into full-blown riots."
"This time, they were bringing around 100,000 youngsters together at a time when political tensions were at their highest. The previous year had seen the highest number of assassinations since the era of darkness began in 1969," the article noted.
"With many big-name bands refusing to play in Italy, the demand for Bob Marley tickets was enormous. For many of those who attended, it was more than just a concert, it was a rite of passage. It was a chance to show that their generation was ready to swap violence for peace," it added.
According to Morris, before the music even began, there was a festival atmosphere devoid of leaflets and politics, where the diverse crowd mixed happily under the searing sun, the air hazy with ganja smoke, with a "sense that some kind of divine being was about to descend into the arena and unite all who were present."
According to the publication, by the time the lights went out and the "Marley Chant" began, the crowd was at a "fever pitch".
"As the silhouette of a dreadlocked figure materialized in the centre of the stage and the first shout of 'Jah! Rastafari' blasted from the sound system, the roar was deafening. A spirit had awoken. After a decade of darkness, a light had descended to fill the void," it said.
"That night, Marley reached inside everyone in the stadium and stirred their spirituality. He reduced every person to vibrating skin and bone – pure, and free of hate. This broken generation of young Italians were uplifted by his music, inspired by his presence. They felt a connection to Africa. To Jamaica. To the World. When he preached the words 'Get up, stand up' during the encore, every member of the crowd was already standing taller than they had ever done in their lives. This was their night. This was their coming of age," the author added.
Marley's concert, the author noted, marked a turning point for Italy's disaffected youth, as the number of assassinations fell drastically and many political groups disbanded, leaving only "a few hardcore cells" still active, and by 1988, the war on the state was declared over.
"There have been countless memorable performances at the San Siro since – both musical and sporting. But none can claim to have had the social, cultural and political impact of the 19-song set performed by the man from Kingston, Jamaica, on June 27, 1980," it noted.
What's your reaction?
0
cool
0
bad
0
lol
0
sad