Cedella Marley, the daughter of the legendary Bob Marley and wife Rita Marley shared a fetching throwback photo this week of Beyonce rocking a runway ensemble inspired by her iconic father. 
Queen Bey, during a past stage performance, can be seen wearing a Bob Marley bustier paired with a pleated mini skirt. The piece was a featured runway item from David Dalrymple for House of Field (HOF) Spring 2003 collection.
The infallible Jamaican design, bearing the symbolic colors (i.e. yellow, green, and black with hints of red), has Bob's face printed in black and white on the front of the top, as the skirt boasts prints of the country's flag. 
Cedella, 55, who has remained quite instrumental in upholding her father's legacy, posted the photo of the Halo singer on her Instagram page on Thursday (May 11) with the caption, "#TBT: @beyonce wearing @bobmarley 👑💚✨."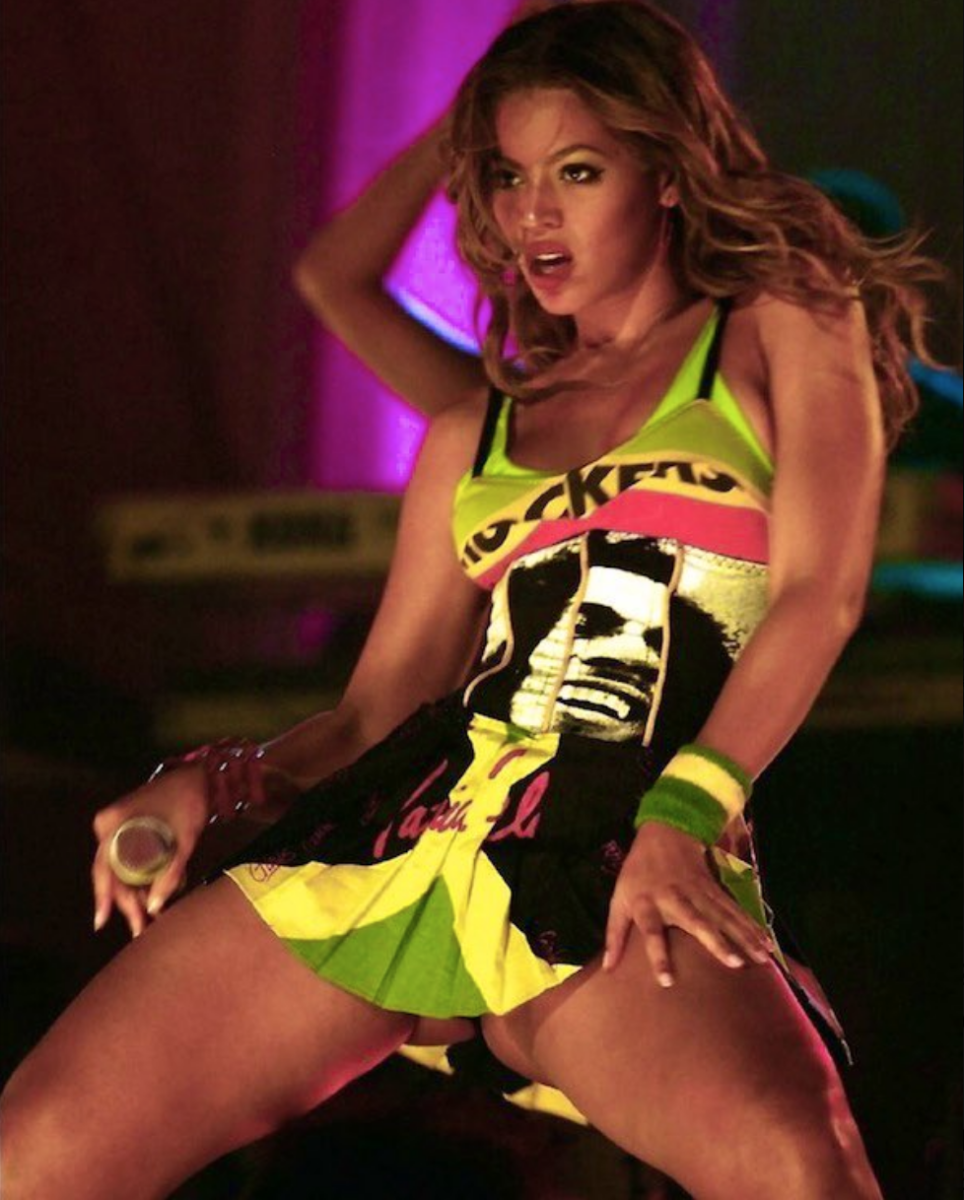 "🤩 Recognizing the LEGEND!🙌🏾💛🔥," commented an IG follower on her post. While others added remarks such as, "Love This!!!!" "❤️🔥🔥🔥 Looks good", and the "Legend lives on❤️❤️."
The design by HOF, founded by New York fashion designer Patricia Field has also been worn by the likes of American singers Mya, and Amerie back when it made its debut some two decades ago. While Mya strutted the look on the runway, Amerie was photographed wearing the fit for an MTV feature.
Earlier this month, Cedalla also highlighted a photo of Bahamian professional basketball player Buddy Hield donning Bob Marley merch. "@buddylove rocking the #Legend ✊🏾," she captioned the post on IG.
Cedella Marley, who is the CEO of the Bob Marley Group of Companies, including her father's recording label Tuff Gong International, and running her family's charitable organizations, has had several clothing lines of her own, namely, "Catch a Fire", "High Tide", "Nice Time Deconstructed", and "Nice Time Kids".
She continues promoting the Marley brand today through "House of Marley" electronics and the "Bob Marley x Market" collection, which is the late musician's official merchandise store.
As a sports enthusiast, Cedella has also lent a creative hand in designing the uniform for the Jamaican Track and Field team at the 2012 Olympics, including the World Champion Usain Bolt, under an arrangement with Puma. At the time, she described her vision for the outfits as "Grace Jones meets my Dad – very music-inspired and a bit retro."
In June 2014, Marley presented a line of menswear she designed, inspired by both clothes her father wore on the football pitch as well as the 2014 World Cup team designs. It consisted mainly of sportswear items such as T-shirts, hoodies, and tracksuit jackets. The line was aptly named "Marley". The proceeds from the collection went towards funding the Jamaica Women's National Football Team, the "Reggae Girlz", of which Marley was a sponsor and official ambassador.
What's your reaction?
0
cool
0
bad
0
lol
0
sad