Gyalis rapper Capella Grey was ready to perform at the Chris Brown and Friends concert at the National Stadium in Kingston, Jamaica on Sunday night. It was the American-born artist's first time on the island, and according to him, he was flown out to be part of what turned out to be an extensive lineup.
But his moment never materialized, leaving Grey to publicly question the event's organizers and the decision that kept him from the stage.
"Everybody asking me, idk," Grey began in a since-deleted Instagram post on Monday, voicing his frustrations. "Idc bout no stadium 'running out of time' the main act didn't hit the stage till after 12 something. Why did ni**as hit ME up? Why did we fly out, why were me and ma ni**as given 10 credentials and artists bands the day before, why did ni**as gas us up and have us do all that promo for the event?"
"Why did they put me all in the newspapers and magazines and national television for this sh*t just to be backstage 15 feet from the mic and not bring me out?" he continued.
Added Grey: "All jokes aside whats the respectful way about going about this? Cuz I had family in the crowd and all dat, ya like to say I react too much and I be wildin for no reason , what you doing? Nah mon this not normal."
In a subsequent post, he shared a clip of his view backstage and wrote, "Ni**as reached out had us fly out and do all that press & sh*t just to waste ni**as time. Wtf typa sh*t going on fr."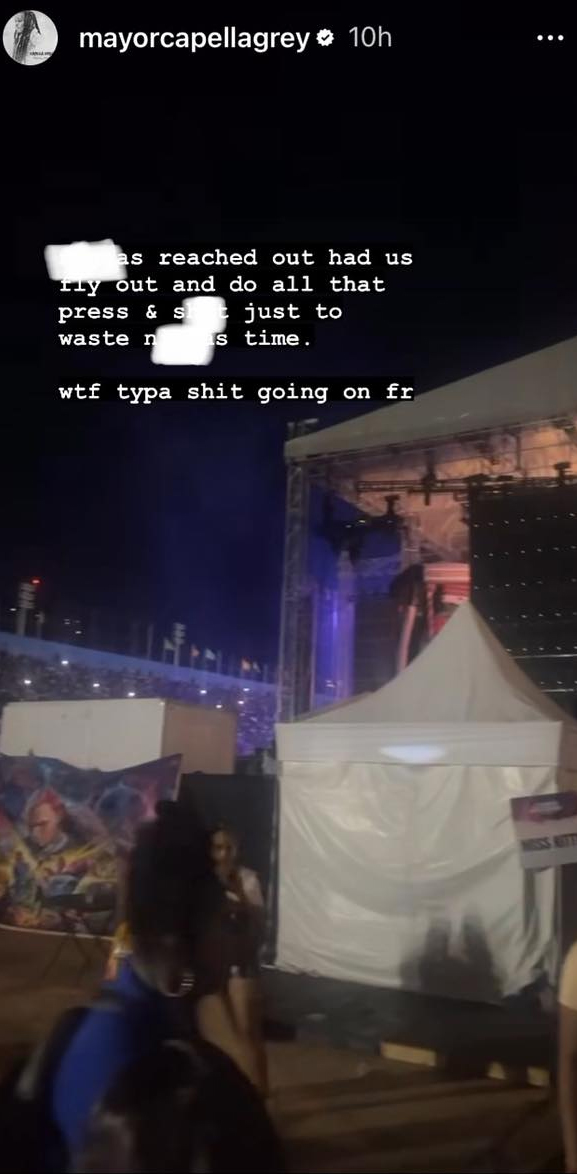 The Chris Brown and Friends concert, which ran almost two hours over its scheduled end time, had a star-studded roster that originally advertised artists such as Teejay, Ding Dong, Sean Kingston, Aidonia, Gramps Morgan, and Byron Messia. However, there was also a slew of cameo and surprise appearances from Jamaican artists, including D'Yani, Kemar Highcon, Moyann, Najeeriii, Bayka, RajahWild, Kraff, Armanii, Valiant, and Tommy Lee Sparta.
Efforts made by DancehallMag to get a comment from Solid Agency—one of the entities responsible for spearheading the show—on why Grey did not get to perform proved futile.
Capella Grey, who has a remix of his Billboard-charting song Gyalis with Popcaan and Chris Brown, has Jamaican roots with his grandmother hailing from St. Catherine and other relatives who reside in St. Mary. He was over the moon about the opportunity, per the Jamaica Observer.
"It's been good, great energy, great vibe. I'm enjoying it here in Jamaica," he told the newspaper last Friday. "Yow, it's my first time here in Jamaica. This is like a real homecoming. I'm getting to really connect with my family and roots."
He also had high hopes about sharing the stage with the King of R&B, considering their work history.
"We got to collaborate on a couple of joints even before Gyalis. It was due [performing with Brown] and the songs have been going crazy. I've never hit the stage with Chris and this is going to be a huge experience," Grey said.
He also revealed that Popcaan's verse on the remix came as a surprise.
"I woke up to a Popcaan remix. He just liked the music and because he appreciated it and supported it he got on it. That was huge for me. God bless Popcaan. He did his thing and it helped the record a lot. I went to the UK and he was in the UK as well and we got to link up."
Last November, Gyalis was certified Platinum in the United States after it reached the sales and streaming equivalent of 1,000,000 units sold in the US.
What's your reaction?
0
cool
0
bad
0
lol
0
sad