Veteran singer Admiral Tibet offered insights into his forthcoming album—his first in more than two decades—and has expressed concern over the quality of lyrical content from current Dancehall artists.
In an interview with DancehallMag at the Peter Tosh 79th Birthday Celebrations in Belmont, Westmoreland on Saturday night, Admiral said that he was upbeat about the album being well-received by Reggae lovers globally.
The St. Mary native revealed that so far the album has nine tracks, one of which is a collaboration with Luciano.
"Just image over 20 years the people haven't heard an album from Admiral Tibet.  I am so excited about this whole project.  And I know it is going to create a positive impact over the world without a doubt.  The people are thirsty for the album.  And it has some very good tracks on it," he said. 
"I won't disclose any titles right now… So far we have nine tracks.  I think the producer say one more enuh. Maybe one.  Bu you know we can put two more; we can put three more, but maybe we work wid all di nine too," he added. 
Admiral Tibet, whose real name is Kenneth Allen, had first made the revelation about his upcoming album during a 'Reggae Interviews' discussion in August.
At the time, he said that while he had been recording singles over the years, he believed the album, which was being recorded in collaboration with a Canadian producer, was long overdue.
Tibet told DancehallMag that over the years, he has been performing mainly in Europe and other parts of the Eastern Hemisphere, but hardly ever in Jamaica.  His last performance in Jamaica, he said, was late last year in Portland, but he added that he has been booked for performances in rural Jamaica during the Yuletide season.
"Most of the time I don't perform in Jamaica.  This year I was in Israel…  You see the war taking place there now?  I was there in May this year.  I also go Jerusalem, Italy and all over the place.  So most times those are the places I go and perform," he explained. 
"I have some things coming up in Jamaica, like on the 29th of December, I am going to be in Portland; for the 23rd of December I am going to be at a place name Burnt Savannah in Westmoreland, and the booking continues," he added.
With respect to the state of Jamaican music, the Deh Pon Mi Guard artist said that, while he has an appreciation for various genres and beats, too much of the lyrical content in many songs being released in the country is unsavory.
"Nothing is wrong with riddims.  I love every rhythm – Calypso soul R&B, Dancehall, Reggae but it's what the artiste is saying on the riddim," he said.
"Positive, conscious songs can be done on Dancehall riddims.  But some song weh mi a hear right now pon di Dancehall riddim dem, is a shame man.  It doesn't make sense.  I know everyone trying to meck some money, but is not just all about di money.  Is not just all about the money for me, and that is why mi teck pride in what mi doin.   No matter how much money dem a give mi, certain song I will never do it.  So mi just want di yute dem fi know seh just keep di ting positive and it will never die," Admiral Tibet added.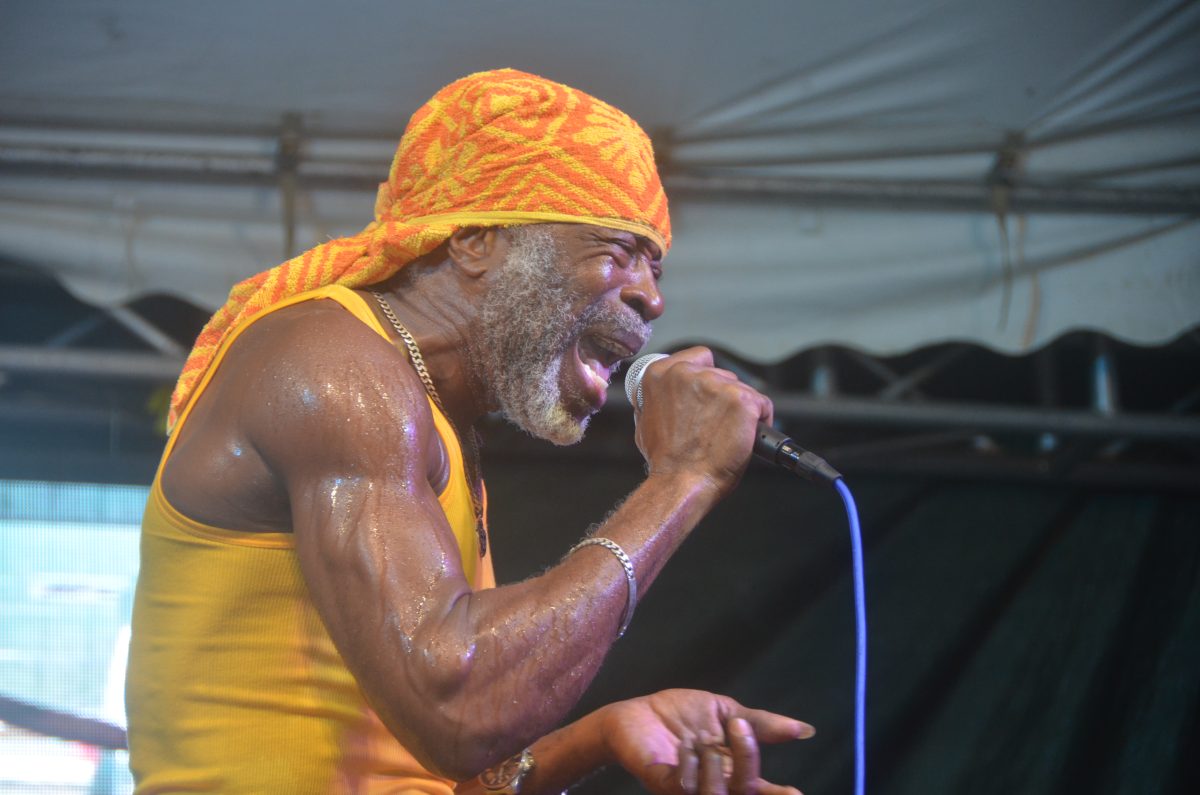 Described as the most consistently conscious singer of his age, the 63-year-old has released seven nine studio albums, namely Separate Class, War in Babylon, Reality Time, Excitement, Things that You Do, Time Alone Will Tell and Determination.
His last album, Determination, which was released in 2003, consisted of 15 songs, among them, Be Thankful, Letter to Mama, Why So Greedy, Rich Don't Care and Where is The Love.
Admiral Tibet recorded his first song for producer Sherman Clacher, titled Babylon War in 1985 and subsequently began recording for the late Winston Riley, where he recorded the iconic Leave People Business Alone on the Techniques label.   Some of his most popular songs are Deh Pon Mi Guard, Don't Try to Diss Me, Gone Crazy as well as Want Everything on the Lonely riddim.
Admiral was also a staple act at King Jammys in Waterhouse, where he recorded songs such as Chase Them Jah in 1986, the mega-hit Serious Time in 1987, and his debut album Come into the Light that said year.
What's your reaction?
0
cool
0
bad
0
lol
0
sad