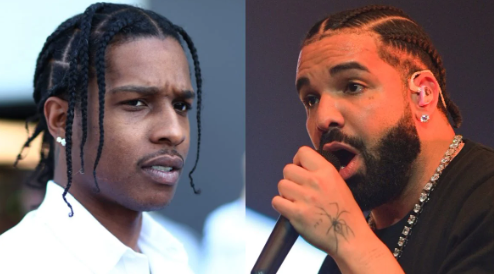 A$AP Rocky, renowned for his fashion sense, unexpectedly showcased his fitness prowess during an interview in sunny Los Angeles this week. TMZ's encounter with Pretty Flacko quickly turned into a unique interview experience as the Harlem rapper was mid-jog when approached.
The enthusiastic interviewer, refusing to miss an opportunity to talk to Rocky, attempted to keep pace with him while firing off questions about his music career and personal life.
Chasing after the father of two proved no small feat, but the barefooted journalist still managed to inquire about his upcoming album, "Don't Be Dumb," and whether he plans to address the purported Drake diss. While Rocky acknowledged he's finalizing his forthcoming project, he kept the details of the apparent Drake reference under wraps. His primary focus was maintaining his run and sharing a good-natured laugh with the breathless paparazzo, rather than divulging information.
Eventually, the interviewer conceded defeat and remarked, "A$AP, I'm dying. I'm fading fast. Man, you're in good shape," as Rocky left her behind.
The mentioned Drake "diss" is believed to be a series of references on Drake's recent album, "For All the Dogs," aimed at A$AP Rocky and Rihanna. Before becoming involved with Pretty Flacko and having children together, Rihanna was rumored to have a romantic involvement with her "Take Care" collaborator. In 2018, she revealed that she and Drake were no longer close but also not enemies.
Drake's lyrics on the song "Fear of Heights" hinted at addressing Rihanna, suggesting he had moved on from her. He mentioned Rihanna's new partner by name in another track, "Another Late Night."
As for A$AP Rocky, he has been teasing his forthcoming album, "Don't Be Dumb," without confirming a release date. In a recent interview with DAZED, he expressed his belief that this project represents his best work yet, emphasizing his commitment to artistic experimentation and a desire to leave expectations open-ended for listeners to experience organically.

What's your reaction?
0
cool
0
bad
0
lol
0
sad